by Raizel Liebler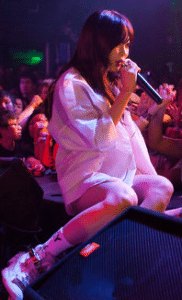 If Brooklyn Vegan can write about CoC, one of my musical boos, and correctly get their subgenre right — "North Carolinian thrash/sludge/crossover institution" then the way the American music journalism doesn't write about K-pop is just not excusable any longer. (Yes, I realize that Brooklyn Vegan has been writing about Corrosion of Conformity since 2010 and metal preceding that time). But as great as of a band as CoC is, they aren't mainstream to anyone who isn't a fan of metal. Korean pop seems to have the same subgenre (or out of the mainstream) issue metal writing used to have because it is outside of the comfort zone of most American music journalists. Already existing fans know where to go, but what about potential listeners?
Billboard does have a kpop writer (Jeff Benjamin) because they are interested in covering genres and subgenres on the move (and fuse tv did a kpop week), but sadly the music journalists at SXSW and beyond seem to not be interested in even fully describing the performances they attended — regardless of whether they liked the music they are there to review it.
After this year's South by Southwest music, I was sure that this would be the year that music journalists would finally truly review the k-pop showcase. After all, last year's performance by f(x) led to them appearing in a Funny or Die video with Anna Kendrick …. and Psy … oh, so much writing about Psy. But instead of reading about the performances themselves, most of the writeups of the showcase read like re-writes of Wikipedia pages, especially for Hyuna.
Yes, she's pretty and was in Psy's video, but what about her singing or her dancing? And the fact that she can do both (mostly) at the same time? Or contextualizing Korean pop within worldwide pop? Or contextualizing her possible U.S. mainstream pop career within a framework that requires non-American female performers — regardless of skill — to speak and sing in English, like Shakira's transformation from Laundry Service onward? Or whether there is a place for Korean pop artists who focus on their dancing and theme as the music itself in an oversaturated market that generally focuses on the same dozen existing superstars? If hipsters can understand Robyn, why would it be too far for them to go to also understand and potentially like Hyuna? I dare you to read this writeup of Hyuna's performance in the New York Times. I'll wait. Notice something odd? She gets a nice, glossy picture, but no mention of her performance. At all.
[youtube_sc url="http://www.youtube.com/watch?v=W8SJxqMUCEs"]
And Jay Park? Lady Gaga while not covering herself in snacks and more showed up to his show. End of coverage
He is a K-pop star, but he is also Korean-American. But somehow the fact he sings in Korean some of the time seemingly overwhelmed the mainstream press from covering his actual performance. I saw the result of research journalists did covering performers from other genres, but nothing about how Jay is from Seattle, is part of a dance crew included in many of his videos — and has even started a music label. Read a review of the show by an American journalist that isn't Jeff Benjamin — does it explain what type of music Jay Park does?
Here it is: Imagine Usher or a one person Jodeci or Keith Sweat or any major New Jack Swing slow jam (and medium jam) singer and add lots of dance skills, with most songs being sung in Korean. See, was that so hard? True fans will critique this summary as not being inclusive enough (what about his Chamillionaire-lite rap?), but that is the point — mainstream audiences don't even know to seek out this music because it is not being described to them.
[youtube_sc url="https://www.youtube.com/watch?v=SrHZ6LUBMsA"]
And why is this? I think at least part of it is lumping in Korean culture with the already existing viewpoint of Asian culture as being represented by "weird Japan." And Japanese pop culture is commonly written off as SOOO weird with their emphasis on cute, etc. And therefore, journalists don't seem to feel the need to do research about the very music that they are reviewing. Maybe I should give them a pass — there were lots and lots of bands to cover. But it has been a month and there hasn't been any additional coverage of the groups that performed during the showcase. Even I'm not detailing the performances of the other showcase artists — Jambinai, Nell, Kiha & The Faces, Crying Nut, and Idiotape — but I wasn't actually there at the showcase.
Maybe I'm making this too much about Korean pop — and not generalizing enough about how pop music is considered to be not serious and thereby not worthy of critique, but rock music and singer/songwriters are. Of course there is a gendered component to this, considering how much pop music is performed — and consumed by women and girls. I love Pop Matters and their features, but their music reviews stay within the "safe" zone — rarely reviewing women or true pop — and their most recent feature about pop or a woman performer is about a seventy-four year old French "zany pop" singer.
And Pop Matters and other similar publications do review indie pop like Katie Herzig, but the type of pop that is urban and ethnic and worldly (but not "world music") seems a step beyond. Of course, all of these publications can wax rhapsodic about the Beastie Boys or the new WuTang Clan, but pop exists in an untouchable zone of irony, never to be taken seriously on a critical level.
There are glimmers of hope for the coverage of k-pop — Billboard's kpop writer and the coverage by both the New York Times and the L.A. Times of the recent 2ne1 and Big Bang shows. But I doubt there will be coverage of the upcoming K-Con in Los Angeles beyond the "some kids like weird stuff" coverage.
[Editorial Note: I want to make sure to acknowledge that NPR Music did list Jambinai as one of their SXSW finds.]