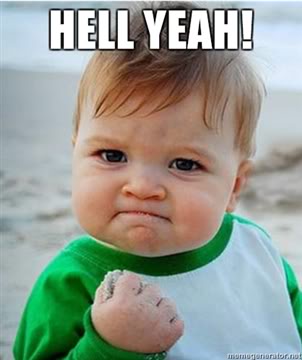 In years past, TLF has written a round up of our favorite memes of the past year. We tried to do it this year and found that for the most part it was a boring and somewhat unsettling year for memes. So, no roundup this year. However, we thought that it might be a good time to review some of our most popular and favorite TLF posts from the past year, so here they are. Happy reading!
Keidra
Sophia's post on music sharing as courtship was a favorite of mine from earlier in the year because it articulated a lot of how we connect our own sense of self and identity to the pop culture we consume.
Laura F.'s Queens of The Stone Age post was great too, not just because I am a fan but because she brought a perspective to the "The Vampyre of Time and Memory." video that I hadn't read anywhere else.
Likewise, Faith's take on 12 Years a Slave was about the overall themes of Steve McQueen's work, rather than treading the same ground of deconstructing race and slavery films.
Kristin's series on Anita Sarkeesian's Tropes Vs. Women videos was awesome to me, because we need to feel free to offer dissenting opinions within feminist pop-culture discourse without being shut down as a troll or "hater", and Kristin's series did that.
From Viv and Raizel, I enjoyed Viv and Kenzo's dialogue on Katy Perry because it was such a unique take and Raizel's argument for making Scarlet Witch a woman of color in the next Avengers film because it's SO DAMN BRILLIANT.
Of my own writing, my posts on fandom and identity and the pitfalls of Kickstarter are the ones that sparked a personal interest in broader themes of online culture and community action that I am excited to write more about next year on the blog.
Vivian
People often say that writing is a solo activity, but I've found that what I enjoy the most is working with Keidra and others on our Scandal recaps. They're different than the on-the-fly recapping from other sites (which are hilarious and often help me remember stuff I've forgotten in the wave of insanity) — they're armchair discussions of the over-the-top crazy that Shonda and company bring. Collaborating with other writers is probably one of my favorite things I've done with The Learned Fangirl.
I love Raizel taking on journalism and diversity because I feel like that's been something I've been harping on for years and people are finally starting to notice it. I love that someone else gets what I've been complaining about for awhile now.
I loved Keidra's discussion regarding Olivia Pope, anti-hero, because it was refreshing to see a discussion on how a WOC can lead a show, and SURPRISE! not be that likeable at times.
Surprise! Some of the stuff I tend to love the most is our collaboration on things, like this fanfic and desire one regarding Moneypenny from James Bond.
Really, there's a lot of fantastic stuff on TLF this year and it's showing a lot of major growth in the website and the contributing voices.
Raizel
What I enjoyed this year was many of the posts by our new contributors, bringing exciting new voices to the blog, especially:
– Heather E. Ash's Dear LEGO®, In Regards to Your Marketing-Imposed Sex Change For My Son! and
Dear LEGO®, In Regards to Your Marketing-Imposed Sex Change For My Son
Of the posts by our editors, I really enjoyed these two controversial and thought provoking posts by Keidra and Viv, respectfully:
– Being a Person of Color and a Metal Fan Sometimes Means Risking Heartbreak
– An Open Letter to Fangirls About Anglophilia
And while I love writing book reviews and more, the posts I have been the most proud of have been the series of posts on gender and sexuality in kpop — a series that will continue into next year, including these two posts:
– Pretty Boy, Punk Boy, Bad Boy: GD and T.O.P
– 'Cause I'm So Bad, Bad, But I'm So Good, Good: Minzy & IU: Gender and Sexuality in K-Pop