Last Sunday evening, I was settled on my couch, resigned to the fact that I was going to be watching YouTube videos of Dillinger Escape Plan and/or Bengal cats all night, until someone on Twitter posted that the American Music Awards were airing that evening.
I hadn't watched the AMAs in well over a decade, but awards shows are always more entertaining with the Twitter-verse as a running, real-time commentary on award show fashion, performance gaffes and ridiculous acceptance speeches. So after reading a couple of snarky red carpet tweets, I tuned in.
Was it a great show? Eh, it was OK, the fun was being able to see the much talked about PSY/MC Hammer mashup in real time, and my appreciation of Pink increased thanks to her artful modern dance inspired performance.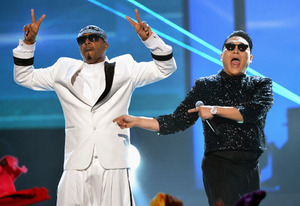 The real entertainment, as far as I was concerned, was the conversation itself, the online community of fans and casual television viewers who share a live viewing experience, like a real-time office water cooler. My own Twitter conversation drew in friends that probably hadn't intended on watching the show either. These days, the social backchannel has become a real hallmark of the viewer experience, particularly with live TV events. Twitter has long served as a weekly discussion forum for TV fans to chat, as fans of Breaking Bad, Walking Dead, and Scandal, etc. can attest to. And of course, sports fans routinely take to twitter to rant, cheer and comment on … well, whatever it is that happens during a sporting event.
And it's live events in particular (sports, award shows, political events) that create a different kind of momentum on Twitter, one that's based around experiencing an event and conversing in that moment, as we've seen from the Twitter interaction during the Olympics, the U.S. Presidential debates, the EURO games, and … even stuff like the AMAs.
In the case of the Olympics, Twitter's impact was a double-edged sword; while many complained about NBC's tape delay harshing their Olympic buzz, it appears that the early social media spoilers about Ryan Lochte and the "Fierce Five" of women's gymnastics made viewers more interested in turning in during prime time: NBC boasted 35.6 million viewers for the first five days of the games. According to the Wall Street Journal, it was the highest rated non-U.S. Summer Olympics in 36 years. The AMAs didn't quite fare so well this year, it was the lowest rated AMA's in its history, and interestingly, I've read more articles and blogs assessing the Twitter response to the AMAs than about the show itself.
I think the uneasy alliance of social media and television has come a long way in the past couple of years – most savvy TV execs understand the influence of social media and general and Twitter in particular when it comes to gauging the tone and tenor of online social conversation.
BET is surprisingly, one of the best case studies in this area: their social strategy for the 11th annual BET awards involved everything from celebrity live-tweets to an on-screen integration of a Twitter live-stream into the show itself.
But we're still not quite at the point where online community interaction is broadly seen as a natural extension of a TV fan's experience, as opposed to a competition for their time. There's certainly an argument for and against embracing this perspective, but the impact of social media is clear, and unlikely to go away any time soon.