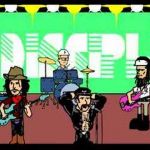 by Keidra Chaney
Nine Inch Nails has been a part of my musical life since I was old enough to be angsty about stuff. I feel like I grew up with Trent Reznor, and watched him grow up as well, from skinny fishnet-wearing goth sex symbol to chunky muscleman to Oscar-winning family man. But what's stayed the same is my love of the music. I'm a fan of the entire NIN discography, and I'm totally down with spreading the Good News of our Dark Lord Trent Reznor to all who'll listen. Here then, is my completely biased guide to major NIN releases – meant for those that only know NIN as "that fuck you like an animal guy" or "that guy that keeps covering Johnny Cash"
That is to say, NIN Stans, take a chill pill for this: I don't include all of the Halos – just the major releases because if you don't know what the f*ck a "halo" is, you won't care if I don't include all of them.
The first full-length release from T. Rez, (The "Down in It" single is Halo 1) PHM is supposedly inspired by a bad breakup with a college sweetheart. Many of the lyrics of the song would point to this bearing some accuracy:
how could you turn me into this
after you just taught me how to kiss you
i told you i'd never say goodbye
now i'm slipping on the tears you made me cry
Prince was been frequently cited as a musical influence for PHM by Trent Reznor early in his career, and evidence of this can be seen throughout PHM, particularly during the last minute of the final track, "Ringfinger," where TR's first, adorable attempt to "get funky" is the beginning of a career-long attempt.
The psuedo-rapping, nursery-rhyme quoting, and general whiny-ass lyrics of this LP make this album not a fave among fans of NIN's heavier stuff, much like With Sympathy is a dark chapter in Ministry's discography for some misguided souls. Personally, I think it's a debut with great moments and few flaws.
I hit repeat on: Head Like a Hole, Terrible Lie, Sin
I hit skip on: That's What I Get

Broken (Halo 5)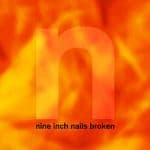 Frustrated and furious by his lack of musical autonomy within TVT Records, "Broken" was Trent Reznor's musical death threat to TVT president Steve Gottlieb. Moving away from the pure synth sound of his first EP and into an aggressive, guitar driven sound, Broken incorporated the live sound MC Rez adopted during the Lollapalooza 1991 tour. Broken is a favorite of mine. Relentless and visceral, it's like having the shit kicked out of you for a half-hour straight. Everything about it – musically, lyrically – is driven by pure violence and it just bleeds off of each track:

i don't know what i am, i don't where i've been
human junk, just words and so much skin
stick my hands through the cage of this endless routine
just some flesh, caught in this big broken machine
For good or ill, "fistfuck" has become a lasting part of the NIN lexicon. For the NIN fan with a strong constitution, theunreleased movie length music video for the Broken EP provides a stomach-churning orgy of sexualized violence for the entire family. (Seriously it's disgusting, I saw it at a tender young age.)
I hit repeat on: Everything
I hit skip on: Nothing. This EP is meant to be listened to from beginning to end.
The Downward Spiral (Halo 8)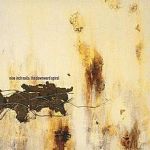 The most commercially successful NIN album, Downward Spiral kicks it up a notch in the sex/violence/anger department, all the while merging industrial sounds with hooky pop song structures. Many of the themes explored in earlier albums (sexual obsession, self-harm, suicide, anti-organized religion) are revisited:
he couldn't believe how easy it was….he put the gun into his face…bang!
(so much blood for such a tiny little hole)
problems do have solutions
a lifetime of f**king things up fixed in one determined flash
everything's blue in this world
the deepest shade of mushroom blue
all fuzzy
spilling out of my head

The juxtiposition of sex and violence is a mainstay of NIN lyrics and never is it more obvious in TDS:
i can reduce you if i want, i can devour
i'm hard as f**king steel and i've got the power

A popular NIN lyrical motif: "Nothing can stop me now" is introduced here.
"Closer," a song originally deemed unsuitable for airplay, became a top 40 hit. Thanks in part to the kinky video, scores of alienated, sexually frustrated goth teenagers developed a new object for their devotion on the Internet and USENET group alt.sex.fetish.trent-reznor was born.
The most moving and lyrically genuine tack on the album, "Hurt" alludes to a vulnerability explored in more depth in subsequent albums, the raw honesty and regret in the lyrics made it a fitting cover song for Johnny Cash in the twilight of his life and his career. (NO IDIOTS HE DID NOT WRITE IT.) In recent years, The Rezonator has revealed this album coincided with his decent into alcoholism and drug abuse and a long battle with depression.
I hit repeat on: March of the Pigs, The Becoming, Heresy
I hit skip on: Closer (cause you've heard it 6 million times I'm sure), Ruiner
The Fragile (Halo 14)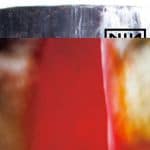 After the monumental success of TDS, Trent Reznor found himself crumbling emotionally, and the downward spiral alluded to in his previous album began in earnest. The musical result was The Fragile, a 100+ minute double album called both his most musically mature work at the time and his most self-indulgent by both critics and fans. Featuring several five instrumental tracks, complex orchestral arrangements and repeating musical lines and motifs, the album was actually not critically loved at the time of its release.
This album has fewer lyrics than any of his other major releases — much of the nihilism of the two previous releases is replaced by a world-weary self-reflection, fear and a surprising tenderness. Holy fistfuck, Batman, is that a love song?
Fragile
She doesn't see her beauty
She tries to get away
Sometimes
It's just that nothing seems worth saving
I can't watch her slip away
Of course, it's not NIN without some good old fashioned hate:
lick around divine debris
taste the wealth of hate in me
shedding skin succumb defeat
this machine is obsolete

broken bruised forgotten sore
too fucked up to care anymore
poisoned to my rotten core
too fucked up to care anymore
In the second disc on The Fragile, "Into the Void" and "The Big Come Down" provide some booty-shaking attempts. The Fragile also really showcases T. Dawg's piano talents. Trent has said that he's very proud of The Fragile, even though it represents an incredibly difficult period in his life. I'm glad because I think it's quite brilliant, though that particular tour was a hard one to watch if you were a fan at the time, he was NOT well.
I hit repeat on: (Left Disc) Somewhat Damaged, We're in the Together, The Fragile, La Mer (Right Disc) The Way Out is Through, Into the Void, The Big Come Down, Starfuckers, Inc.
I hit skip on: (Left Disc) Pilgrimage, Even Deeper, The Great Below (Right Disc) Complication, Ripe (With Decay)
(Note: I WOULD STILL VERY MUCH LIKE TO SEE THIS ALBUM REMASTERED, MR. REZNOR THANK YOU FOR YOUR TIME)
And All that Could Have Been/Still (Halo 17)
"And All that Could Have Been " is a live album. It's quite good. "Still" is an EP of emo versions of Fragile songs and the title of the live album is also the title of the Most Depressing NIN Song Of All Time. This was TR at ROCK BOTTOM and honestly when I first heard it, I feared it would be his last recording. Thankfully it was not…
With Teeth (Halo 19)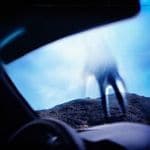 The first LP from an unretired, clean, sober, and muscled up Trent Reznor, With Teeth is not the most musically challenging of NIN releases, but offers up a menu of angsty comfort food for fans hungry for a new release after five long years. Drum whore Dave Grohl offers assistance on drums and Twiggy "Jeordie White" Ramirez backs Colonel Trent up on bass.
With Teeth features the same patented NIN self-loathing and anger, but is also features a song with a political message:
What if this whole crusade's a charade
And behind it all there's a price to be paid
For the blood on which we dine
Justified in the name of the holy and the divine
The first track," All The Love in the World" is notable for an impressive multitrack vocal harmony at the end of the song. The title track is notable for his goofy-ass pronunciation of "with teeth" (aWITHaTEETHa!) The final track "Right where It Belongs" is haunting and starts with a stunner of a first verse:
See the animal in his cage that you built,
Are you sure what side you're on?
Better not look him too closely in the eye,
Are you sure what side of the glass you are on?
See the safety of the life you have built
Everything where it belongs
Feel the hollowness inside of your heart
And it's all, right where it belongs
Of course, then he has to kill the mood with some "oooh oooh's" at the end, but it's still a great song.
I hit repeat on: All the Love in the World, Only, The Line Begins to Blur
I hit skip on: The Collector, Getting Smaller
Year Zero (Halo 24)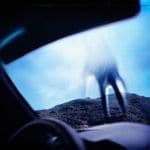 In my opinion, Year Zero is Trent at his most lyrically adventurous. After building a career from being self-revelatory, YZ has an actual storyline: focused on the political and social aftermath of a catastrophic terrorist attack in the US. Trent had a lot of fun with this album, I suspect, with the opportunity to write from the perspective of characters and voices that were not himself, with songs like "God Given" allowing him to wear the hat of a racist religious cultist:
This is just another case, you people still don't know your place
Step aside, out the way, wipe that look off your face
'Cause we are the divine, separated from the swine
Come on, sing along everybody now
or Capital G, in which Trent puts on his best "duhh" voice:
I pushed a button and elected him to office and a
He pushed a button and it dropped a bomb
You pushed a button and could watch it on the television
Those motherfuckers didn't last too long
A little heavy-handed on the lyrical tip, musically, but it's still one of my favorite albums, with layer upon layer of noisy electronic blips, glitches and crazy fart sounds in songs like "Vessel" and some straightforward rockers in the form of "Survivalism." It was also a fun time because Trent seemed to enjoy dressing himself and the band up in YZ military-eque costumes while on stage, like a school play. I am a sucker for bands in costumes so I really enjoyed this tour. The album is notable for being NIN's last with Interscope, and the album that kicked off Trent's experiment with pay-what-you-like pricing and independent releases.
I hit repeat on: Vessel, My Violent Heart, The Great Destroyer
I hit skip on: Me, I'm Not, The Warning, Meet Your Master
Ghosts I-IV (Halo 26)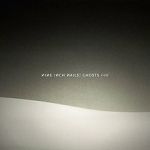 I like to call Ghosts I-IV the album where Trent Reznor and long-time studio collaborator Atticus Ross became "musical spouses". It's the start of the collaboration that influenced later work writing the scores for The Social Network and Girl With The Dragon Tattoo and also their band with Trent's actual spouse, How To Destroy Angels.
An instrumental album, Ghosts is best described as a musical collage – unstructured and more like music textures and combinations of percussive sounds than traditional songs. It's also the album that introduced Trent's try at major label-less life, released under Creative Commons by "The Null Corporation."
I hit repeat on: I just listen to it as a singular release
The Slip (Halo 27)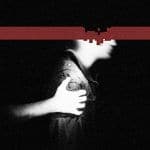 The Slip is like the rocking younger brother of Ghosts I-IV. They were recorded around the same time and represented NIN at its most loose and unstructured. A "gift" to fans, it's not a complicated album. It's a simple, fun rocker with the kind of songs that probably took 20 minutes to write but are catchy as hell. And while Trent is still doing the angsty party line:
I jump from every rooftop
So high so far to fall
I feel a million miles away
I don't feel any thing at all
It's kind of hard to believe him on The Slip, he seems pretty happy and self-confident and it kind of shows on in the bouncy songs on this album. And indeed, when he puts NIN on its 2nd hiatus, it's for much happier reasons than after The Fragile he gets himself hitched, wins an Oscar, has two kids and starts a family jugband band.
I hit repeat on: n Seed, Head Down
I hit skip on: Corona Radiata
Hesitation Marks (Halo 28)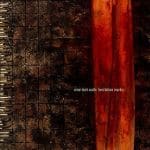 So here we are at Halo 28. Four years was not a long time to be retired and not at all fretful for me as a fan, like the last time when I thought he was gonna become a recluse and/or die of a drug overdose. Apparently Trent feels like he still has something to say musically through NIN. I will take it. In recent interviews it's clear he's gone from Goth Elder Statesman to Your Crotchety Dad. That's cool too. Hesitation Marks has a lot in common with NIN's post 2005 work, some of the dissonance that was a hallmark of early NIN has given way to softly crooned ballads and an actual happy rock song in a major key:
Wave goodbye
Wish me well
I've become
Something else
Something else, something else
And it took a couple of decades but there is finally an NIN song worthy of a hip-hop dance routine. Congratulations, "Satellite."
It's been like three days in for me and this album so I am still not sure how I feel about it as a whole. I think it sounds fantastic, but not sure if it's a sticker, but I do think it's an album that may be the happy closing chapter to the turmoil-filled history of NIN. Go Trent!