Keidra Chaney
A friend kindly sent me an invite to the new MySpace the other day, and being a serial social media network joiner, I eagerly accepted. Back in the days of MySpace 1.0, when it was a "place for friends" but also a place to discover new bands, it was a go-to place for my online music discovery. I only used it peripherally as a way to connect with friends and meet new ones, but I would go to MySpace first to search for new music or to catch up on the discography of a band I recently saw live. As a music discovery community, MySpace 1.0 was fantastic for me – I could add bands directly as "friends" and get turned on to new bands based on theirfriends list. Likewise, I could connect with potential new friends based on their own music interests (usually reflected by the content of their friends list.) When MySpace 1.0 was at its peak, with over 100 million users, it was easy to get lost in the discovery process, browsing profile after profile for new music.
As much as it was maligned for its garish profile skins and the annoying music auto-play, the music player for MySpace 1.0 was never quite replicated by other major social networks – even Facebook – which made it a great venue for indie musicians. The music player's interface made it easy to stream and upload new music and could serve as a "calling card" for musicians. When first I started recording and sharing music online, MySpace was on the wane as a popular social network, but it was still the best option for a musician to share tracks online and build an audience.
It's a shame that MySpace 1.0 was driven into the ground by Rupert Murdoch's greed and shortsightedness; there was an opportunity for it to remain relevant in the wake of Pandora, Soundcloud and other music discovery communities. Let's face it, none of them have been able to do what MySpace did when it comes to breaking artists. In fact, it's been YouTube – not Pandora, or ReverbNation – that's taken over that role in recent years.
But now MySpace 2.0 is here. Backed by Justin Timberlake, it's sleek and visual – reminiscent of Pinterest, actually – and it's ready to be the next big music discovery community. Or not. Right now, the only music to be "discovered" on MySpace is the same music you'd discover by turning on your car radio. Here, try some Ne-Yo, or Alicia Keys, or 50 Cent, or whatever. Oh, you can try an "Intro to Dubstep" if you're so inclined.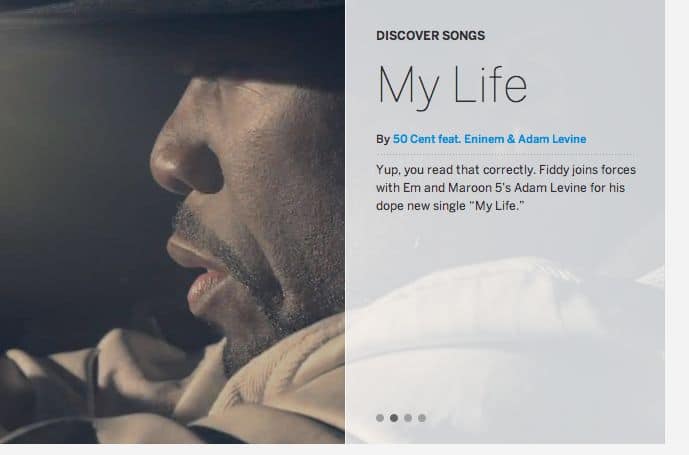 As of now, MySpace looks like social media's answer to Top 40 radio – an effort by mainstream record labels to get fans to care. Between all of the Taylor Swift and One Direction I feel way too old for it, even though the music catalog is right out of 2003. (And the metal music catalog is straight out of 1999.) Furthermore, it's really hard to connect with others based on shared interests, which would be another possible (and needed) feature. Of course, this comes on the heels of both Spotify and Soundcloud rolling out new, more social functionality, allowing users to discover new music based on their listening history and connect with others that have similar music tastes.
The New Myspace, as pretty as it is, doesn't really put music first, at least not anything outside of major labels, and certainly doesn't put passionate music fans first. It's the one thing that none of the existing music-based social networks have effectively addressed (and that I've blogged about before) music fans crave to connect with each other, to talk about favorite new releases, learn about upcoming live shows, to dissect each other's "top 10" lists. That's the lifeblood of music fandom, the reason that music blogs like Pitchfork and BrooklyVegan are still going strong (whether you like them or not). And have you ever looked up a song on YouTube before? The comments are just loaded with music fan wank. And to be honest with you, YouTube's algorithm has done more to connect me to new music that I actually enjoy than anything Spotify or Soundcloud did prior to their redesigns. Scanning the YouTube comments will almost immediately tell me if song is worth my time, or what to expect from it.
Ultimately, the music startup that understands that – how to combine a diverse music catalog with an easy and enjoyable way to connect with a large community of fans that share your musical interest – is going to be the network that stands head and shoulders over the rest. But it's gonna take more than just a flashy new interface and algorithm to get that balance right. Soundcloud's focus on building a sound creator-driven community is one approach, and the start up has done an excellent job in recruiting and empowering users to build the community there, but its history as a hub for the remix/DJ set still clings to it. Spotify, on the other hand, has a richer catalog and its new "Discovery" tab and "Music Graph" functions seem to have beaten MySpace 2.0 to the punch when it comes to connecting music fans in a more intuitive way.
Ultimately, most of the music sharing social networks are focused around the habits of the casual music listener, but there's yet to be a social network that's really catered to the behavior of music geeks, who tend to want to explore and dig deep in musical catalogs. I am pretty sure MySpace isn't gonna be that network, as it stands, but there's still a great opportunity for it to emerge in that direction. And maybe, the way to do it is not by looking forward, but connecting to its past.