by Keidra Chaney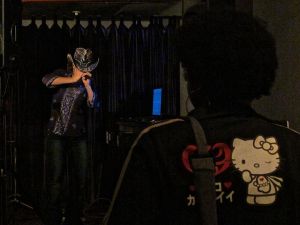 Sonic Squee – H/T to @queeneulalia – is my weekly (?) fangirl recap of the music writing/news that's gotten my attention lately. I am constantly yapping about the music news of the day and I read a lot of articles and essays about pretty much every day. Considering the hundreds of articles, videos, tracks that pass our Facebook timelines and Twitter feeds each hour, it's easy to overlook things, so this is my attempt to clue you in on some notable music related stuff that you may have missed while you're out actually having a life outside of the Internet. Also, it's an excuse for me to rant about the kind of stuff I normally bug my friends with. Hey it's my blog, I do what I want.
This is one of the best music features I've read in a really long time NYTs James McKinley breaking down the anatomy of a pop hit, without immediately getting into the sales and marketing end of hit making. What exactly does it take to write and produce an infectious, hooky pop song? More than you'd think. The success of Daft Punk's throwback approach to production – who'd imagine that the concept of hiring experienced session musicians would be seen as a bold move – is pretty inspirational:
The aim was to depart from their usual way of operating and recapture what they call the "golden age" of recording in the late 1970s. They abandoned playing the parts themselves and relying heavily on drum machines, computerized loops and samples of disco and rock records. Instead they recruited master studio musicians with the technique to play a syncopated groove in near-perfect time for five or 10 minutes.
I've mentioned to friends that I think "Random Access Memories" is a response to EDM and a love letter to those studio musicians who likely aren't getting the recognition (or the work) that they used to get in their glory years. And it's notable to stress just how expansive and universal the positive reaction has been to Get Lucky, especially at a time where pop music seems so fragmented and demographically targeted, a great song has the power to cut through all that.
So Adrian Belew follows Eric Avery out of NuNIN. I will be straight up and say that I never expected the "supergroup" formation of NIN to last. I love Trent as much as any fangirl, but I will be charitable and say that he's a "strong personality" with a "singular creative vision" and I just wasn't sure how that was going to work with someone like Adrian Belew, who has his own style and approach. Belew's been a longtime NIN collaborator but there's a difference between "band living together" and "band married" and I don't think they were compatible on that level. Belew says in Consequence of Sound:
"No one is at fault. We both agreed it just was not working. I'm sorry to disappoint anyone."
It's all good, I'm sure. I'm hoping he's featured on the new album. In the meantime, please to enjoy one of my favorite Reznor/Belew creations:
Who's stoked about Metallica performing all of St. Anger at Orion Fest this weekend? Me neither. But it's always fun to read behind-the-scenes dispatches of bands in practice mode. At least for me. And as much as I enjoy reading music blogs, I don't get nearly enough of that kind of first-person, fly-on-the-wall music writing there. Rolling Stone still does it (and Decibel, too, god bless 'em) and here's a good example:
Trujillo temporarily takes charge, leading Hammett and Ulrich through a song the band has only performed once before, one Trujillo didn't even record with the band, but he knows the changes best. He later becomes playfully incredulous when Hammett can't remember the lines of a song he's been performing for over 30 years. "He may secretly listen to those songs more than the rest of us do," Ulrich says of Trujillo.
And that's why Rob's a keeper.
On a related note, Metal Injectiondid a list of 6 things that didn't suck about St. Anger in "celebration" of its 10th anniversary, and I am mostly in agreement. (Hetfield's crazy voice cracks were actually pretty effective and kind of alarming, which I think was the point, right? I dunno.) To be honest, I didn't loathe St. Anger, and especially since we now know things could get worse, it sounds pretty decent. But this?
"That is, if you can pick it up, over the sounds of the Tupperware and old-man angst. Being that Jason Newsted could only be heard on like maybe 4.8% of the 3 1/2 albums he played on, and Robert Trujillo appeared on LULU which leaves him automatically disqualified, Bob Rock might have a technical claim to being the best living bassist in Metallica history."
Just makes me sad.
Unlike Amanda Bynes meltdown, Miley Cyrus' antics – edgy haircuts, pot smoking and on-again-off-again engagements – are almost charming, and oddly pop-star appropriate, if there is such a thing. and Joe Coscarelli's heartfelt and thoughtful defense of Ms. Cyrus in Rookie actually got to me:
… she branches out with confidence. "Just recorded a banger," she tweeted the other day, hyping her new album, which at one pointed was rumored to be titled Reborn. She's seen doing what may very well be drugs at clubs, but there's no rehab or paparazzi beatdowns, just dancing. Her relationship with Hemsworth seems bumpy, but there have been no public scandals. She's the most public kind of person you can think of, and yet a lot of her business is private. That's a tricky thing to pull off.
Sue me, I actually kinda like her. That fact surprises even me. But not nearly as much as the fact that Miley's dad and Kurt Cobain here apparently buddies.
Weird to see good music writing on a food blog, but food writer (and former musician) Robert Sietsema wrote a vivid farewell to Mawell's, the venerable Hoboken, N.J. rock club that is closing its doors at the end of July, for Eater. It's a great mix of music nostalgia and a bit of food porn in one.
Maxwell's flame-grilled hamburgers were particularly large and delicious, and we always had them with cheese and thick slices of bacon. The steak fries were just average. Eventually Todd Abramson, the club booker and a former Yo La Tengo roommate, bought the rock club and carried on the tradition, with Steve Shelley of Sonic Youth as a co-owner.
Would love to try one of those hamburgers before it closes.