by Kristin Bezio
Editor's Note: Welcome to our new readers for this post written in November! 2013! If you want to comment or share this, do so knowing Kristen is a feminist AND a game critic AND a game player AND an academic, so this is a critical analysis, because The Learned Fangirl's tagline is "a critical look at pop culture and technology"!
I've talked about Anita Sarkeesian before on TLF, both prior to her release of the Tropes vs. Women in Video Games series, and following the release of each episode on the Damsel in Distress trope (after parts one and two, and after part three). Sarkeesian has just released a new video in the series, about a trope she calls the "Ms. Male Trope."
Sarkeesian begins this new video with the history of Pac-Man and the introduction of the modification/sequel Ms. Pac-Man (which, she notes, quickly became one of the best-selling games in the U.S.). Ms. Pac-Man (the character) is not only, Sarkeesian continues, the first playable female character in a game, she's also the origin of the trope Sarkeesian describes as the "Ms. Male Character" trope:
A female version of an already established or default male character. Ms. Male Characters are defined primarily by their relationship to their male counterparts via their visual properties, their narrative connection or occasionally through promotional materials.
Ms. Pac-Man is a "good" example of the trope taken to a negative extreme – particularly in her sexy-circle ads, in which she dons heels, makeup, a bow, jewelry, and sexy legs – there are other gendered indicators that are required to distinguish between genders that aren't nearly as sexualizing or, frankly (like the lavender bow Sarkeesian mentions), silly. And this trope is wide-spread and problematic, since the elements used (as Sarkeesian points out) are by-and-large designed to minimize (usually by association, since bows do not as a rule cause one to be less powerful) as well as differentiate.
Sarkeesian also points out that the choice of "male" or "female" reflects a problematic tendency in Western society to subscribe to the gender binary (that there can be only male OR female). While I agree that this is an exclusionary issue, very few – if any – games provide enough customization options in terms of physiology and clothing to allow for any other option. Should they? Probably. But because our society as a whole is obsessed with the gender binary, it can hardly be a point of particular condemnation for games that they follow suit (although it would indeed be refreshing if they chose to provide such options).
Elsewhere in the video, Sarkeesian remarks of Wendy Kupa (Bowser's daughter) that "her defining characteristic is her gender," or "Personality Female Syndrome," which gets at the heart of the problem with the Ms. Male trope. Having a stereotypical – and harmfully so – vision of "femininity" as a character's entire personality is enormously problematic and serves to perpetuate an inaccurate and socially harmful perception of women, and contribute – across multiple forms of media – to the kind of misogyny that pervades the gaming community (and has led to the abuse which Sarkeesian herself has suffered).
Her positive example, however, is similarly problematic. Claire – from Thomas was Alone – is a square in the literal sense – a shape with no distinguishing features whatsoever, which doesn't seem to me to be a character with which anyone, male, female, or other, can identify. Except possibly squares. She focuses on indie games in this positive sequence which deliberately invert the gender-color-trope (the boy wears pink, the girl blue). All these are good examples of fully-developed female characters, but they don't really help us to address the problem because they're purposefully designed to explode the trope ("Look! Girls can be heroes, too!") rather than exist on their own terms. The most recent Tomb Raider's Lara Croft, for instance, is a more comprehensive counter-example of a female playable character whose gender (aside from her really REALLY irritating grunting and squeaking) is largely irrelevant (noted in my TLF review). A simpler example might be the Lookout from Monaco, color coded red (while the Cleaner, the pink character, is both male and violent… and also noted elsewhere on TLF).
However, there are many female gender-choice "version" characters which are included in the trope's definition that I would argue don't belong there because the character was deliberately designed to be either male or female. This is not to say that there aren't problematic gender-choice playable characters which have clearly been designed as male and have female "versions" shoe-horned unbelievably into them – there are. However, there are also quite a few whose characterization is deliberately a-gendered (or modified only minorly throughout the game's narrative) in order to accommodate a primary character of either gender choice.
Put simply, Sarkeesian's definition of the Ms. Male trope doesn't allow for the kind of gender customization that a lot of players have come to expect from certain games (generally RPGs – role playing games). If the player is going to choose a gender and the character is going to be consistent across both genders, a female version of that character is going to automatically fall into Sarkeesian's definition of the Ms. Male trope, which I find problematic. The whole point of allowing for gender choice in RPGs is to enable the player to play as either gender but have fundamentally the same gameplay experience – and they are going to be distinguished through "visual properties" because games are a visual medium.
In particular, Sarkeesian goes after BioWare's Mass Effect series, which contains the central playable character "Commander Shepard" whose gender (and sexuality) is determined by the player at the start of the game, rather than dictated by the designers. Her primary complaint seems to be that the marketing (and boxes) feature the default male Shepard, a problem that could then also be applied to BioWare's other major series, Dragon Age, which similarly features a default male Hawke in its marketing and packaging materials. She says, "that is how BioWare is selling the Mass Effect experience." But here's the thing. BioWare isn't the one publishing the promotional materials – EA, the publisher, is. BioWare chose to make a deliberately gender-non-specified game (more than one) that allows the player to choose gender, sexuality, and appearance based on their own preferences for a playable character.
Let's look at the statistics for Mass Effect. According to Joystiq, while only 18% of players choose a female Shepard, only 13% choose the default male character settings, with the remaining players customizing their Shepard in another way. That means that 87% of players are making up their own Shepard and not falling back on the default, meaning that the marketing choice dictates the appearance and characteristics of only 13% of players. Interestingly, the marketing material for Mass Effect 3 also deliberately increased the focus on the female version of the character (as Joystiq also notes), in part due to pushback from fans who wanted to see the female Shepard appear in places other than their own gameplay. Sarkeesian suggests that "femShep" (the term used by fans of the series for a female Shepard character) indicates a differentiation from the default, but Sarkeesian doesn't seem aware that fans in fact use the terms "femShep" and "manShep" – they rarely use "Shepard" without a gender qualifier. (It is also worth noting that the percentages are for first play-throughs – many Mass Effect fans, myself included, play through the game more than once and with more than one "Shep," often swapping genders).
Now to be fair, Sarkeesian has nothing negative to say about the gameplay of Mass Effect – in fact, she notes that most games with gender-choice have "a better gaming experience overall," but that ultimately gets at one of my largest problems with her series, which is that there has to be a negative component to every game she includes, and that – in this case – the way in which a game is marketed and displayed becomes a criticism of the game itself.
I don't have an issue with her attack on the marketing of Mass Effect – I think she's right that it's unfair and biased to focus (almost) exclusively on a male character when the point of the game is that the character can be either male or female. But the way she presents her criticism maligns the developer (BioWare) and explicitly associates her critique with gameplay footage (as well as trailers and box art), rather than going after the publisher (EA) or attempting to explode the misconception that publishers have that no one will buy a game with a woman on the box (an issue I've addressed on TLF before).
Ultimately, my issue with this video in the series is that, to me, she actually misses the largest problem with the Ms. Male trope, although probably because to her it seems glaringly obvious and not worth explicit mention. So I would suggest a revision to the definition: "A female version of an already established or default male character specifically designed to cater to a stereotypical understanding of women or to provide a sexualized image to male players, and which reduces the narrative engagement, gameplay value, or realism of that character in the process."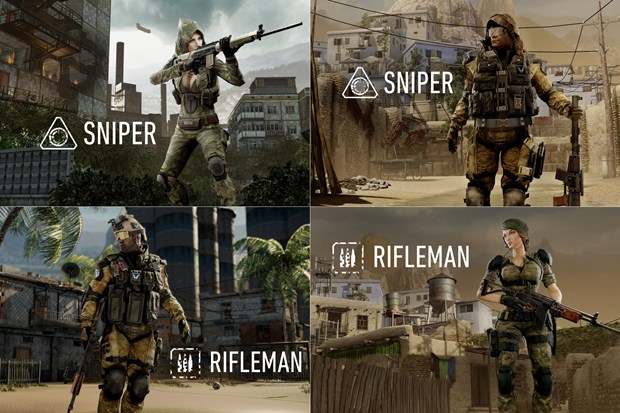 It's both ridiculously silly and ragingly misogynistic that female characters in the vast majority of games wear pink, have bows, wear makeup (in copious amounts), bare cleavage, or have very little clothing in order to differentiate them from their male counterparts. Warface, for instance, is a prime example of the ludicrousness of this, even when it involves neither bows nor pink (I did a write-up of this elsewhere). Putting aside (only for the sake of space) the problem of hyper-sexualization of female characters in videogames, there is no gameplay need for female characters to subscribe to stereotypes about femininity, sexiness, or girlishness (with all the negative resonances that generally accompany those terms).
Female characters who are reasonably dressed in appropriate contextual clothing (armor for a soldier that actually covers her body, for instance); who participate fully in the narrative; whose gameplay abilities equal those of the male characters in both statistical and visual impact (and may in fact be identical); and whose personalities are as fully developed as those of the male characters are not Ms. Males, even if they are "versions" of the male character types already contained in those games. Games that do this well include Gears of War, Halo: Reach, Mass Effect, Dragon Age, and Skyrim.
However, the biggest problem with the Ms. Male trope is that these characters, for the most part, are not alternatives to their male counterparts. They are dumbed-down or sexed-up models whose behavior and (lack of) personality indicate that women are secondary rather than primary characters. Every true Ms. Male character is an inferior version of her male alter ego, whether in terms of gameplay or narrative (or both). They aren't Ms. Male characters – if they were, they'd be better – they're inferior characters whose primary source of inferiority is their gender.
They aren't women in a default male role, they're lesser versions of the male role designed to cater to women from the perspective that women aren't equal to men or interested in the same things (and most of the glaring examples of this are from the 1980s and 1990s). By making these lesser female versions of characters, the industry not only reinforces the idea that women are inferior, but actively alienates female gamers by denying them access to characters who reflect their gameplay fantasies and also reinforces for male players the idea that gaming (and possibly even full participation in the world) is a male-exclusive domain.