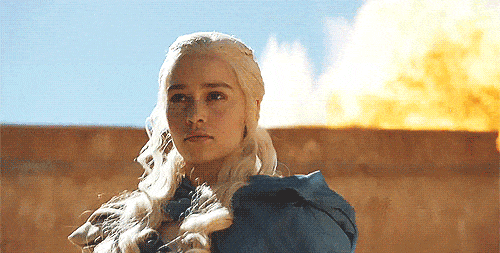 This week's recap – Playing with Fire: The Ladies Go for It.
In this week's episode, Season 3 finally hit its stride, with a huge finale featuring Danaerys, and several notable reveals and introductions especially relevant to book fans.
The latest installment in TLF's weekly recap features three fans with very different perspectives: Cheryl Collins, a TV show fan who has never read the book series upon which the series is based; Laura Fletcher, a casual fan of the TV and book series; and Corrin Bennett-Kill, a hardcore fan of the book and TV series (who has read all the books four times). Miss us last week? Read Episode 3, "Walk of Punishment."
We invite you to join the discussion in comments!
Cheryl Collins
For me this week was about a few big themes, including women reaching out for the brass ring, some more successfully than others.
All the women — Cersei, Dany, Arya, Margaery and Olenna Tyrell, Brienne (and we might even throw in Varys, given the kimono he was sashaying around in this week) — were throwing their weight around. Dare we say, leaning in?

Laura Fletcher
Cheryl, I'm glad you mentioned a theme besides revenge. In my opinion, revenge is always there. But this time, women — and dare I say, gender roles — took up a lot of narrative space again.
Corrin Bennet-Kill
Oh my God, what a great episode! It was so much fun to watch!
Dany moved through the acquisition of her army with such finesse. I adored how she completely blew off Jorah Mormont in her moment of triumph, truly claiming it as her victory.
Cheryl
Is there a character in this show that feels more castrated than Jorah Mormont? (OK, maybe Stannis.)

Corrin
Well, Jorah has spent his life being p*ssy whipped by women. Capitulating is his modus operandi. Recall why he is in exile in the first place (he was bakrupted and sold thieves as slaves in an effort to keep his demaning wife in the style to which she had become accustomed).
Laura
Danaerys: That girl is on fiy-ah! (Sorry, I had to.)
At this rate Jorah's going to be relegated to reaching for things on high shelves for Dany! She's coming into her own for sure — though I do want to say that her very white features and her entire storyline across the sea has been racially loaded. Now she's freeing slaves and leading them as free men into war to win back Westeros. There's plenty of gender and race/ethnicity stuff happening here. (Many thanks to the smarty-snarky-fabulous Fatihan Iman on Twitter for speaking to this issue so well!)
Corrin
Those exercising power (and relatively successfully to date) are either women or half men (Tyrion, figuratively, and Varys, literally).
Those with the traditional power roles, the patriarchs, are losing sons, hands, and lives. Those who are traditionally weak are in ascendance (Sam at the Wall, Brienne, all the female power players in Kings Landing). One could even say that Stannis is not making any power plays at the moment because Melisandre left him in the lurch.
Laura
And the Unsullied — whom Jorah said weren't men — have sacked Astapor.
Cheryl
Plus the Night Watch guys — society's castoffs — have mutinied.
What to make of Brienne telling Jamie — who had lost the will to live — that he was acting "like a woman"?
Laura
Oh Brienne, why do people consider your character "feminist"?
Corrin
What is missed is that Brienne has co-opted traditional masculine roles not because she wanted to, but her lack of traditional femininity forbade her pursuit of typical female roles. She claimed Renly as her king because she loved him. She fights because she has spent a lifetime being rejected by men, not because she despises being a woman. She despises not being a "feminine" woman.
Laura
Corrin, I think you're spot-on. It's a mistake to see her rejection of gender roles as anything but necessity — unlike Arya, I think, who also had to play a boy by necessity but seems much more likable and heroic, for some reason.
Also, in this episode I missed the subtlety of the shifting points of view in the books (where each chapter switches characters). Cersei, in my mind, is easily misread as conforming to or believing in gender roles in the show.
Corrin
Cersei is bitterly angry about her own lack of personal power and intensely resents her own gender as a result. She hates being a woman and relying on the men in her life to provide her with power. She believes she, not Jamie, should have been the man.
Cheryl
You just feel that Cersei is so yesterday — both she and Jamie must now confront lives without the things they most coveted, the ways they identitified themselves. Cersei's power is slipping from her fingers as Margaery is ascendant.
How Jamie and Cersei respond to these challenges — the high road or low — will give great opportunities to reveal character.
Laura
Cersei's scene with Tywin, for example, cast her in a similar role to Tyrion a couple episodes back. She's vying for respect and knows that, whatever she says, her being a woman is a liability.
Then, in her conversation with Olenna Tyrell, she ends their discussion of women's disempowerment (literally) by saying the gods have willed that men should be in charge. However, I think that can be misread as her believing it. I think it was both sarcastic and self-preserving, as the Tyrells are also ascendant while the Lannisters — despite what her father thinks — are in serious doo-doo.
Cheryl
But Cersei — unlike Margaery — seems incapable of seeing the big picture. Olenna is more appealing yet also conniving, because she has the distance and wisdom that Cersei lacks.
Laura
I think Margaery is underestimating the danger she's putting herself in by being near Joffrey and playing the eponymous game of thrones.
Corrin
And the danger to Margaery comes from Cersei. Not Joffrey.
Cheryl
I saw that comment of Cersei's the same way: like, "Joffrey is the king here, whatever you may think, and he and I are in control. Not you, Tyrells."
And do we think that Margaery's offer to Sansa of her brother Loras in marriage was heartfelt, or conniving? Is a web being spun by Margaery to bring in the north — or was she trying to help her new friend? Sansa does not seem to have learned to suspect enough, of Littlefinger or Margaery.
Corrin
Cheryl, I think it's a heartfelt offer. The lady Tyrells are portrayed (in book and show) as being good-hearted, if also adept at playing power games.
Cheryl
I thought via TV, it was more vague; her goals were more ambivalent.
So let's get back to the other big theme, Revenge. It was depicted as an all-powerful, life-sustaining force. For example, Jamie said he had no desire for revenge, making it clear he had lost the will to live. Brienne then kicked him in the butt by reminding him of his near-duty to seek revenge.

Corrin
Varys was all over this episode, and revenge is such a part of his soul now that his story could be casually revealed. I think his explanation of how he was cut was long overdue, but but the manner in which he revealed the details was spectacular. It was a brilliant visual depiction of the way Varys has taken vengeance to his breast.
The casual way he pried open the box. The moment he took to wash his hands. All the while, Tyrion looking on slightly horrified. And then the big reveal.

Laura
Corrin, I know you mention great casting all the time, and Conleth Hill as Varys is a real scene-stealer when he wants to be!
Cheryl
Throwing this out there: flames and fire were all over this episode — many if not most scenes begin and end with fire imagery. From the reminder of Varys's testicles being sacrificed — !! — to the reveal that the Band of Brothers are worshipping the "Lord of Light," to the fire at Craster's place, with Mormont and Craster ending up as twin cremains.
Laura
Ooh, and the fiery deaths of all the Targaryens that Joffrey referenced! And of course, Dany's dragons and the spectacular final scene.
Plus the cremation of the random Crow who died of malnutrition, it seems, gave us the title this week: "And now his watch is ended." Next week's episode, it should be noted, is "Kissed by Fire"!
Cheryl
So what about the mutiny in the pigsty/wife-breeding facility?
Corrin
It was well done. The buildup of resentment over the course of the season was ready to come to a head. You could see Mormont losing his grip on his men as starvation and defeat began to eat at them. Plus, most of the fighting men died on the Fist of the First men. The Rangers of the Nights Watch were typically nobility, but remember that much of the Watch now is made up of murders, thieves, and rapists. Not the most noble fellows, nor the most willing to self sacrifice for a greater goal.
Cheryl
A good example of how when people are desperate, order breaks down. But I did think it was interesting that both Craster and the elder Mormont were left to roast after they both referenced their gods: Mormont with "the gods will curse us!" and Craster proclaiming "I am a godly man!"

Corrin
On to Theon. That circular story arc still annoys me.
Cheryl
Ah. Theon. Well, to me, this is where a theme from real life this week was reflected back in fantasy whether we liked it or not: of young men making terrible choices that cost lives and facing the consequences of their decisions.
Laura
Before Theon realized he was captured, he confessed so much to Creepy Dude that I'm now worried for him.
Cheryl
Right: he confessed, and instead of the expiation of his sins, he gets, well, crucified.

Corrin
Anyone having a hard time with the Bran Stark story line? I keep forgetting he's even in the show.
I will say this: I've read through book five and his role/purpose still isn't all that clear. So it doesn't surprise me that the show is having difficulty finding a path for him.
Cheryl
And the less we say about Pod the Sex Machine, the better!

What is your opinion of this episode? What's drawing you in and making you curious — or furious? What do you think of how gender and race are playing out? Have at it in the comments!