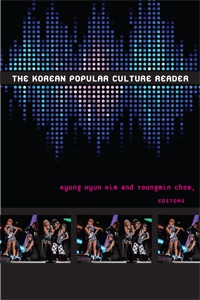 Kyung Hyun Kim & Youngmin Choe's edited collection of academic essays, The Korean Popular Culture Reader is an important entry into popular culture and Asian cultural criticism. The cultural relevance of this collection is expected, but what is not expected is how fascinating and well-written all of the essays are.
Generally, in essay collections like this, I end up reading the chapters that are of most interest to me and browse the rest. But here, there were interesting tidbits within each essay, helping to demonstrate both the importance of the specific subject and contextualizing it within a broader culture. Some of the surprising and interesting things I learned about included:
— the construction of the meaning of love within Korean culture — including the word(s) for love;
— how wealthy Koreans interest in luxury high-rise living plus living at home with parents as adults helped to promote computer cafes where 20/30somethings play videogames and flirt;
— the ways that athletes of Korean descent/origin are both accepted and "othered" within sports
Yes, I started reading this book for the first (!?) academic essay on Dramabeans, the Korean drama and fandom site. I think it is important to properly memorialize and capture what this and other sites do, considering when they are gone — like the original version of Television Without Pity and others. The idea that there is now a dissertation on this makes me hopeful for the future of pop culture and Korean culture studies. The Girls' Generation essay was good, but that wasn't unexpected. And there are little treats for 2ne1 fans, such as the cover featuring four images of CL and Minzy performing.
My only critique is an odd one — in the chapter about food, some of the transliterations were likely accurate, but threw me off, considering they were not the ones that English readers expect (example: bi-bim-bop).
Overview: Come for the essays you are most interested in, stay for the entire book. Korean popular culture studies will take its place among other subsets of pop culture studies and this book is a great start to help the academic ball rolling.