The race war is nigh upon us, gentle readers. Or at least it feels so in the dog-eat-dog world of Justified. Racial issues, which have been bubbling along in the background this season, come to the fore in the well-directed "Kill the Messenger."
If you have been watching along with me, you'll know I've have discussed the master and slave leitmotif threaded through this season. These themes finally have become explicit.
The show opens with two unpleasant rendezvous. Raylan, after finally unburdening himself to Art about his complicity in the death of Nicky Augustine last season, meets him in a bar on a rainy night. Art promptly slugs him.
Next, Boyd. He sits in his truck, composing himself for the unknown task ahead, clearly of the necessary-but-distasteful variety. He sighs heavily and trudges to the door. Cut to him laughing and bullshitting, in full embrace with Gunnar, a multi-tattooed neo-Nazi who was a pal of Boyd's from his old race-war days.
Why must he do so? His betrothed, the blonde and pretty Ava, has been sent to the state penitentiary, far from Boyd's easy protection. Gunnar's sister Gretchen is there, and Boyd pays Gunnar to watch out for Ava.
Justified goes a bit Orange Is the New Black as it follows Ava into the state pen. While she is thrust into this new universe, the grinding reality slowly dawns on her.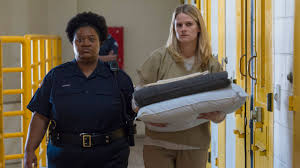 Ava is soon confronted by a group of vaguely menacing black women who press into her face, sniffing and touching. They, in turn, are repelled as if through reverse polarization by Gretchen and her band of white supremacists. But instead of protecting her, Gretchen pounds her – and slices at her blonde hair. Why? It turns out Boyd is a "race traitor" – which is worse even than being black – and she must be punished.
Though Boyd makes a deal with Darryl Crowe to take on Gunnar and they effectively dispatch him, it's clear that Ava feels isolated and abandoned. She borrows a razor at high cost – not, it turns out, for revenge, but to finish cutting her own hair. An indication, perhaps, that to survive, she will morph into someone else. Is it someone that Boyd will recognize? Can she still trust him? Will she still want him? Will she perhaps turn to hated cousin Johnny in desperation?
Two last scenes with Raylan lead us back to our protagonist's uneasy conscience, obviously affecting his view of himself (this after a twisting story line with the truly demented Danny and Boyd's henchman Carl, who turns out to be one quick-thinking badass).
One with Rachel: his straight-arrow co-worker who is black, female and petite, and with whom he briefly cohabited in the Confederate-loving gangster's high-columned mansion. She tries to get him to fess up to what is burdening him. He uses an interesting turn of phrase: "You wanted me to come off the leash so you could call me to heel." There's that master and slave/dog and master imagery once again. He declines, not wanting to implicate her.
Later, with his blonde girlfriend (?) Alison, Raylan chugs two beers in quick succession. "Who are you?" she asks, dressed in that flannel shirt, while he leans against a pillow adorned with a dark bird. She says he's a hero, but he's not so sure. She also suggests he is creating his own chaos. It's pretty clear Raylan needs a confessor and find a way to expiate his sins.
OK, let's talk about all those birds. Of course, the Crowe family are the antagonists this season, and that's no doubt why the season's art feature a bird in a tree over Raylan's shoulder. Further, Raylan was led to Wade Messer's dead body by a flock of circling crows (get it?). And there is that pillow.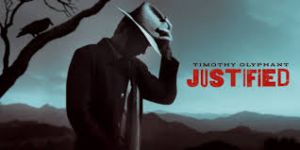 Also, Alison was wearing that flannel shirt again. I've suggested before that the flannel shirt seems to be the symbol for "poor white" this season. What are they trying to tell us about who Alison is?
Some more questions I'll throw out there:
1. Do you think Wade Messer is really dead? I still am not so sure.
2. This episode is called "Kill the Messenger." Why?
I am your humble servant and I live to please. And listen to the needs of her masters. Make your wishes known in the comments, if you feel the urge. (Keep it clean!) Ruff-ruff.
Use of the word "pussy": 0.