by Cheryl Collins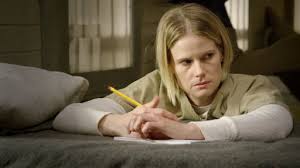 The characters in "Weight," the most recent episode of Justified, put down their guns for once and pick up knives, as so many of the characters end up even further along doomed paths.
Ava must now choose whether to betray the "Mother Superior" — her protector Judith — as demanded by her would-be heroin courier. Judith has done well by Ava, yet Ava has entered the Darwinian environment of the state pen and given up on depending on Boyd. During a visit, behind heavy glass, she breaks up with him, deciding to control of her own destiny. Let's say he does not take it well; Walton Goggin's contained fury behind that thick glass speaks volumes about a character who not only cannot control his "woman" and failed his role as protector.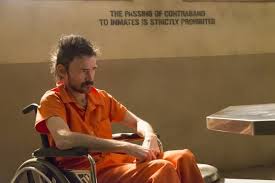 Dewey, in his effort to take his fate into his hands, also must betray his would-be protector. After speeding away with a tow truck pulling a Gremlin filled with heroin, he decides to run away in search of his "dream": he'll sell the dope and flee. He pays a visit to the still-missing-a-screw Dickie Bennett (Jeremy Davies), his "last true friend." Dickie immediately drops a dime on him the moment he leaves and calls Raylan; meanwhile, as Dewey looks to sell the dope, his connection immediately calls Boyd. Even Dewey's favorite whores turn on him for a wad of (fake) cash. So he is betrayed and belittled at every turn, and as he drives away in the Gremlin, I wondered how the man who no one takes seriously will seek his revenge.
Kendall seeks protection too, from the wrath of Danny, after Danny's dog Chelsea — his "chocolate lover" — gets hit by a car. He runs to Alison. She too, betrays him and calls his mom: his two putative protectors both send him back to Harlan County. Which seems mystifying, to tell the truth, but I suspect that is purely to set up the next episode.
Danny Crowe meets his inevitable end — knife in hand, after tripping into Chelsea's grave. Didn't he listen to his mother's admonition about running with knives? Did the end of that unhinged nut job feel anticlimactic to you, too, loyal reader?
Ava finds Judith in the chapel, shiv in hand, but professes that she wants to work with her. Judith knows exactly what she's up to and lunges. It's unclear what Ava's intentions are, but in the end Judith dies as a cross looms over them both. Ava is covered with blood — having committed murder in the chapel — and her path continues its rapid downward trajectory. Hell awaits.
Boyd finds Ava's accuser, the diminutive prison guard, and he ends up duct taped in Boyd's office. Boyd, knife in hand, threatens him while trying to get him to recant, but he refuses. Why? Because "I love her, but I don't have the power to make her mine." Although the reasoning seems faulty from where I sit, it resonates with Boyd, who turns him loose. No doubt Boyd, too, feels he doesn't have the power to make Ava his; the light bulb seems to finally go on that she not only does not belong to him but that he can't control everything (don't the Buddhists call it "loving with detachment"?).
In the aftermath of Danny's death, his sister Wendy tells Darrell that he is a pale imitation of his father: he too has failed as protector. He responds by kicking the shit out of her. His fury is brutal. It is still shocking to see a woman beat up on screen.
So the keg is set to blow as we reach the last few episodes of this penultimate season of Justified.
Once again this season, the execution of so much of this episode feels second rate. Danny's death and Wendy's beating felt poorly staged, and whole swaths of the dialogue felt uninspired, as best: sparkling zingers like "I gotta take a shit" just do not bring much pleasure. The reliance on crudity is truly a sign of lazy writing.
But it was great to see the tremendous Jeremy Davies back as Dickie Bennett, who does a great job of making you feel that Dickie has lost some gray matter along the way.
Use of the word "pussy": 0.
All those who have owned and loved a Gremlin, raise your hands.