Hello Hair Trigger Types Who Read The Title and Immediately RT. DON'T. Read the editors note first. Then read the actual article. Then read the 5 or 6 articles written after that. THEN consider leaving a comment. But you absolutely don't have to. Enough has been said, really. – KDC (10/12/2014)
by Kristin Bezio

Editor's Note — Since this post was written in February! 2013!, Kristen has written followup posts about this issue, including "Digital Damsels in Distress: A Simplified Version of a Real Problem in Gaming"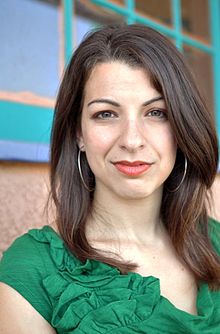 And also Digital Decorating: Sarkeesian's "Women as Background Decoration: Part 1"
If you want to comment or share this, do so knowing Kristen is a feminist AND a game critic AND an academic, so this is a critical analysis, because The Learned Fangirl's tagline is "a critical look at pop culture and technology"!
…..
Back in May, the internet exploded both in favor of and against Anita Sarkeesian's Kickstarter project "Tropes vs. Women in Video Games," with a huge contingent of trolls attacking her professionally, intellectually, and personally. Another less vocal contingent supported her Kickstarter campaign to the tune of approximately $150,000. Since then, Sarkeesian has been a vocal presence in the online and real world communities, speaking out against online sexual harassment and occasionally tweeting and blogging about the games she's playing (presumably for the video series).
On the surface, much of this would seem to align itself with my own personal sympathies, and for a long time I was also a supporter of Sarkeesian's proposal and her efforts to defend herself against the trolls. I continue to think that her proposed project is one that needs to be done, and I also continue to think that the treatment she received at the hands of the under-the-bridge-dwelling internet was unconscionable.
I am, however, getting over her.
I think it's long since been time to stop talking about what happened to her and how awful it is and high time to start taking a more progressive stance on the whole thing. Okay, there's bad behavior on the internet. I got it. How do we help change it? How do we raise our kids and talk to our fellow gamers about acting like adults instead of infants? Repeating over and over how immature the gaming community is as a whole doesn't do much.
Painting a picture of the gaming community as cruel, misogynistic, violence-prone basement dwellers is not helping with viewing gaming through the lens of rationality. It also alienates those gamers who are genuinely nice people. And further alienates feminist gamers as "White Knights" (people who will defend female gamers at all costs, no matter how wrong they are) rather than reasonable human beings with respect for all.
As a female gamer, I've been subject to sexist, harassing, and misogynist comments and assumptions whenever I play online. I understand and sympathize with her desire to lash back, and with her desire to see that it stops. I just think it's time that the conversation move somewhere more productive.
But May was a while ago, and while Sarkeesian has been occasionally tweeting about games, she hasn't managed to release even one video in the series her backers paid for. I'm actually finding myself agreeing with a lot of voices on the internet wanting to know why they haven't seen anything. People are starting to wonder whether those who donated have any recourse if they don't ever see videos. And that isn't helping people to feel any more sympathetic toward Sarkeesian herself.
Yes, she's been busy interviewing in NPR and doing a TEDx Women talk, and travelling around to universities and conventions and other places. I get being busy. But there doesn't seem to have been a concerted effort to actually begin the serious production process for the video series. Perhaps she has – I don't know, because she hasn't been sharing that. I know she's got a lot of work to do – a lot of games to play, a lot of notes to compile, and so on. As an academic, I understand the overwhelming nature of research and production. However, she can create videos in installments the way an academic researcher putting together a long-term study or a book cannot.
Most important to me is that the snippets of feminist criticism that I have seen coming out of Feminist Frequency have not inspired confidence, in either her interpretive skills as a gamer or in her ability to separate "feminist criticism" from "pointing her finger at women in games and saying 'bad.'" Take her tweet on Dishonored, for instance: "Many truly brilliant elements in the game #Dishonored, sadly representations of women are not among them. #Disappointing."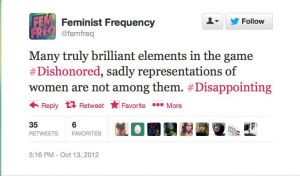 Here's my problem with this. Dishonored doesn't have many "strong female" characters … except for the Empress, the Empress's daughter Emily, and Callista Curnow. Yes, the Empress gets killed in the first five minutes of the game and Emily needs rescuing (she is 10, after all), but Callista makes a point of doing several things in the course of the game that tell you she's quite a capable human being. One of the most powerful figures in the game is female (though insane – Granny Rags), and the nation appears to be a matriarchy. Yes, there are a lot of female victims in the game, but there are just as many if not more male victims. In fact, pretty much everyone is a victim at one point or another. And yes, there are female villains, but there are male villains, too.
Sarkeesian seems to dismiss Dishonored as misogynistic simply because it doesn't contain the stereotype of the "strong modern female" in a game that is about how everyone is at the mercy of arbitrary fate in the form of rampaging plague rats.
My point isn't that games aren't misogynistic – there are far more of them that are than that aren't, and some of them are really blatant – nor is it that someone doesn't need to have the serious conversation about representations of gender (especially women) in games. I think both those things are true. But if Sarkeesian is going to dismiss a complex and intelligent game like Dishonored out of hand, then I have my doubts about her overall ability to be that voice, at least to the degree that we as an internet gaming community seem to have accepted.
I don't want me or other "feminist gamers" to be thought of as those that do nothing but whine and yell about how women are underrepresented and misrepresented in games and the gaming industry. I don't want to see women and feminist men with valid criticisms and interpretive opinions silenced because "feminist gamers" have gotten a negative reputation because of what Sarkeesian has and has not said and done.
What I want, really, is for Sarkeesian to make her "Tropes vs. Women in Video Games" series. I want to see what kind of critical approaches she actually takes, and I want to judge her ability to speak for female gamers on the merits of what she has to say about games, in detail, with examples, not based on fleeting tweets and TEDx talks on how internet trolls are horrible people. I want her to make something of quality, and to be successful because of what she's done rather than what has been done to her.
And that's how I want all women, gamers, academics, critics, and others, to be successful. Because of what we are capable of accomplishing, not because we have been made victims by trolls, by society, or by individual men (or women). Yes, it is important to talk about what has happened to women, historically and currently, but it is also much more important to talk about what women can do. Let's talk about how to make the industry better, smarter, friendlier, more tolerant, and more accepting, not just how bad it is now. And if we want our games to change, let's look at what's really wrong with them, not just the surface checklist of whether it has a female protagonist or not.
And, finally, let's stop all the arm-waving and finger-pointing. Videogames don't cause misogyny. They don't cause violence. They don't cause any of society's ills. Like any other form of popular culture, they reflect those ills and seek to make changes to those things they can. Dishonored puts a princess in a tower (literally) not because it thinks she belongs there, but because it knows she doesn't.