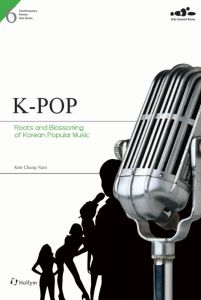 Despite all of the talk about PSY in the United States, there is still so little substantive discussions of K-pop in English. Here, then, is a review of Kim Chang Nam, K-Pop: Roots and Blossoming of Korean Popular Music (2012). The last (English) book covering this subject was Pop Goes Korea in 2008.
So why hesitate reviewing this book when I am interested in critical analysis of Kpop? This book is part of a series commissioned by Arts Council Korea, a government agency to promote Korean culture, including hallyu / "Korean wave" / Korean culture popular outside of Korea. This doesn't make it *bad*, just biased. And frequently when government agencies promote cultural heritage, the result is so ridiculously promotional, it just doesn't ring true (Example: this fake news story about k-pop).
This book really does give an overview of kpop for an audience completely new to this music — and that is highly readable. But if only this book had come out six months later and could include the PSY phenomenon in the midst of the glossy idol photos! The possibility of breaking into the English-speaking market is a clear underlying thread — while talking about Girls' Generation and the Wonder Girls, Kim dryly comments that "what is important is that such attempts [to break into the U.S. market] serve as a touchstone for identifying the marketability of Korean idol music." (113) Surprisingly enough, the book also discusses the impact of sexuality on how idols present themselves — and how the fans respond. This includes a discussion not only of female idol singers — but also of male idol singers, something I haven't seen done with gender equity in discussions of kpop.
It is undeniable that boy groups' performances can satisfy the public's sexual fantasies, such as taking off their shirts during shows and showing off their well-defined abdominal muscles. In a patriarchal and male dominated society, however, the issues surrounding sexuality spring up more strongly and distinctively among girl groups. (122)
So to the not-as-good … this book is not the place to go for an in-depth analysis of k-pop, but what should I have expected for a 150-page book without an index? The book also doesn't include any analysis of underground music, or more traditional rap or R&B, beyond (remember no index!) one mention of Epik High and a three page discussion of rap. But it does mention b-boy crews (but not their history based on the dynamic Korean diaspora in the U.S.).
The book also doesn't cover the dark side of K-pop, which definitely exists, including the all encompassing aspects of life as a K-pop trainee (sometimes starting at middle school age) through stardom, where success comes at the cost of a lack of personal life (dating=career ending scandal) and the absolute need to be multifaceted (singing, dancing, acting, variety shows, making adverts).
Summary: If you want to understand how PSY happened, or why there are so many dancing girl groups in unison from Korea, check out this book!