by Raizel Liebler
State of the world kawaii!
One of the inspirations for our starting this blog was trying to explain Japanese culture, especially anime and Hello Kitty to others, even those that understood U.S./U.K. geek culture. Posts on Hello Kitty and kawaii (Japanese style cute) on TLF were some of our first, most popular posts.
So if you've ever thought about or explained cool Japan, feminized consumerism, feminist reinterpretations, high art versus low art, Christine R. Yano's Pink Globalization: Hello Kitty's Trek Across the Pacific is the book for you.
In the tradition of the type of fan studies popularized by Henry Jenkins, and within the anthropology tradition she was trained in, Yano spent ten years learning all about the spread of Hello Kitty outward from Japan. This book manages to both encompass the small – individual interviews with devotees – to the large – contextualizing HK within the larger Japanese gift-giving tradition and views of shojo (young women). Hello Kitty manages to be simultaneously a symbol of ultimate kawaii and consumerist collecting (no one can buy every HK product!).
Yano doesn't skimp on the identity politics involved with HK, including how … odd it is to have a humanized kawaii cute mouthless cat with a fictionalized British background globally represent Japanese culture. Or how Hello Kitty is viewed as a positive symbol by some women of Asian descent – and as a limiting vise by others.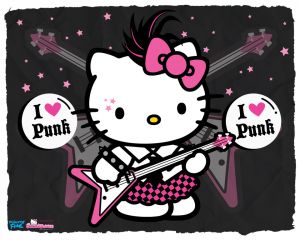 While the book isn't authorized in the sense of being a licensed product — there is a disclaimer next to the copyright notice — Yano did interview Sanrio employees at work, giving a unique perspective from inside the branding empire.
An interesting aspect of the discussion of the consumerist aspect of HK is how she is a worldwide brand that has a lifecycle along with its fans – from stickers for the kids to Hot Topic HK wear, through diamond necklaces… (on to KISS x Hello Kitty? or the most controversial HK licensed product?)
P.S., HK: A bizarre discontinuity within this book: a reference to Evan Seinfeld from Biohazard!
Summary: Highly recommended for its careful and detailed analysis of the complete Hello Kitty phenomenon.