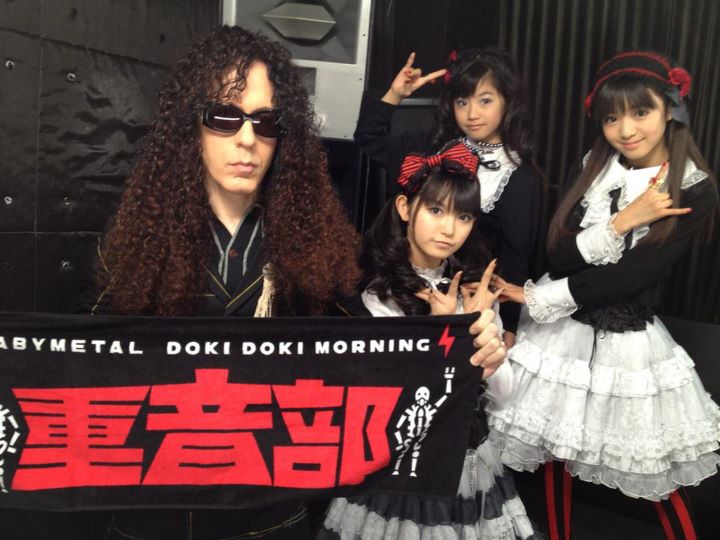 by Raizel Liebler and Keidra Chaney
Hey, metalheads! Are you listening to BABYMETAL under cover of darkness? We at TLF want to you throw off that cloak of shame; we don't think you should be ashamed of liking Babymetal.
The fact is, metal is a big tent. A BIG tent. It includes everything from Slayer to Amon Amarth to Misery Index to Faith No More to Whitechapel. Now in the age of super-specific subgenres, some bands that were classified as metal at the time have been "demoted" to hard rock. (I heard a teenager refer to old Sepultura as "hard rock" the other day and I was like "WTF"?! – kdc) But we at TLF are old enough to absolutely not give a !@#$ about that sort of thing. Metal is a large enough house to contain the heaviest stuff through thrash to the kawaii-ness that is Babymetal.
Yes, we at TLF are nostalgic for the time where the house of metal was big enough to contain a bit of everything. Alice in Chains, Anthrax, Def Leppard, Faith No More, Guns n Roses, Pantera, Poison, Living Colour, Megadeth, Metallica, Mötley Crüe, Queensrÿche, and Sepultura were all played on the same goddamn show and if you didn't like it you just left the room or turned the channel until you liked it again. A Dio fan wasn't likely going to be into Sepultura or vise versa, but they also weren't going to try to reclassify what they were listening to either. We miss that time. We consider all of these bands metal — and are are glad that there's room for people to like Asking Alexandria or Five Finger Death Punch or any of that stuff we don't listen to. We don't have to like it to defend someone else's right to call it metal. Because it is. It's not like extreme metal cred pays student loan bills.
So what is the reason that so many want to exclude Babymetal? Part is the need to exclude everything except for extreme metal from the exalted heights of METAL. One reason is because whole "no clean vocals" trend, which honestly is limiting. Instead, the vocals are much more like what you would expect from an adolescent girl used to singing ballads. Metal fans accepted that Pantera used to be a hair metal band, so Babymetal should be given the same opportunity to be whatever they are.
Another possible reason for not considering Babymetal metal is because … girl cooties from girl cuties. The band is manufactured by a label and they are very young — their vocals are much more like the ballads that serve as anime theme songs than traditional metal vocals. Perhaps it is also the cute outfits and that two of the "singers" are really just backup dancers. Yes, it's schticky but so is Ghost B.C. and everyone loves them.
But it is also due to the masculinist aspects of the reasons why some metalheads seek out metal — it is an angry genre performed mostly by men. So kawaii-ness somehow makes the music seem less metal. And … we get that. So much of popular music these days is caught up in aesthetics and perfectly manicured feelings. Not wanting cute in metal is understandable. There's got to be room for ugly, for anger, for harshness somewhere. But … whatever. Shaking things up is exciting and the sameness of contemporary metal can get kinda dull, your mileage may vary. So if you like metal and Babymetal, good for you! And if you like metal and you don't like Babymetal, good for you. See you in the pit either way, you're both welcome.