Welcome, Ser Crow … please excuse our formless bodies, sackcloth clothes, and sooty interchangeable faces here in this abandoned and dangerous corner of the Internet. We are defenseless women, so we might just stand back and watch while you strong men fight to the death, and then we'll make more babies and then the whole cycle will start again. Cool?
Have some charred furry rabbit with a side of lemon cake, and enjoy the viewpoints of three fans with very different perspectives: Laura Fletcher, a casual fan of the TV and book series; Corrin Bennett-Kill, a hardcore fan of the book and TV series (she has read all the books four times!); and Cheryl Collins, a TV show watcher who has never read the book series.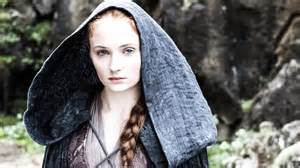 Please join the discussion in comments!
Cheryl Collins
It seems that this episode was all about women trying to wield power in a man's violent world. Leaning back, so to speak.
Laura Fletcher
Yes. It seemed like a smidge of cosmic justice, considering the last few episodes!
Cheryl
It was about "leading from behind," it seemed to me (with a literal stab in the back at the end).
Corrin Bennett-Kill
I'd like to hear your thoughts on that scene after Tommen's coronation between Cersei and Margaery. I was surprised at the seemingly genuine nature and honesty of Cersei. And her seeming disappointment when Margaery equivocated about marrying Tommen.
Cheryl
Cersei needs her father's support — as he will be judging Tyrion, and she wants him dead — and so she goes along with Tywin's plans for Tommen. All that matters is the Lannister legacy, she says to him, giving him what she wants, trying to play the master. I didn't see the disappointment. But Cersei looked literally nauseous as she talked with Margaery about being queen, who hilariously scoffed with an "Honestly, I haven't given any thought to it."
Corrin
I didn't read Cersei that way. In all of her scenes this episode I did not get the sense that Cersei was trying to manipulate others into behaving how she wanted them to behave. She was as straightforward as she could be. First with Margaery, then her father and Oberyn. Her care and concern for her children, her fears for Tommen and Myrcella, they didn't seem in service of anything other than their welfare. Even the interaction with Tywin, it was as if she had decided that she was finished trying to be the power behind the throne — that her best efforts had led to Joffrey being who he was, and that she is willing to follow her father's lead and try as best as she can to keep herself and her children safe. Although this was not an unexpected turnaround, it was done with grace.
Laura
I think I saw the same thing, Corrin. Cersei seemed almost deflated when talking to Margaery, as if she understands that Margaery will be better as an ally (at least on the surface, as Cersei perhaps continues to plot away) than an enemy. Margaery is her way in to Tommen, since Tywin has made it clear he's mom-blocking her.
I will say that Cersei's plotting from here on out feels like it will be of a different sort — much more subtle than before. After all, she's almost out of allies, if not entirely run dry.
Cheryl
Interesting that we had such different takes. I think Cersei knows allying with Margaery is the best she can do — but her look of real nausea while not facing Margaery told a different story. It was all as various well-wishers climb the steps to pay obeisance to Tommen as the new king. And of course, she is courting Oberyn because he is a judge in her brother's trial — but that does not mean she was not truthful about her feelings for her children when talking with him, of course.
Corrin
The men will attempt to lead through Tommen. Cersei and Margaery can help shape the man he will become.
Cheryl
Right — to the side, just as the two stood in the shadows. And Cersei seems resigned to it all.
Laura
I like the idea of seeing this entire episode through women. Were women in every scene? (And no nudity, to boot!)
Cheryl
Yes, and this episode was directed by a woman.
Laura
Michelle MacLaren directed the last two episodes. I think she had something in mind with the Craster's Keep scene last week, even if I vehemently disagree with how she pulled it off: it was the horror-exploitation-movie trope of rape revenge. And it fit in so well with the power struggles, and the use of vengeance, by women across the Game of Thrones world, from Dany to Cersei to Arya to Sansa. And Lysa … oh, Lysa.
In the rape-revenge horror trope, what usually happens is our heroine is violently attacked in the beginning of the movie. Either she or her family (if she died) then go after the rapists in a thriller-horror type of way.
Cheryl
But doesn't it seem in keeping with almost everyone in the series that those brutalized women would help the attacking Night's Watch?
Laura
What I liked about Craster's daughter-wives is that they got their revenge, but then rejected the idea of going back with the Night's Watch. They're suspicious, and rightfully so. Why would they know the raiding men were any better than Craster or their later captors?
In Westeros, and on Dany's side of the Narrow Sea, women have to wait for their moment to claim a bit of power, or independence. The women at Craster's hung back — a smart move — until they had a better idea of whether to help fight, or flee, or what.
Cheryl
What was interesting to me was the extended close-up of that woman who had stabbed Karl, after Jon killed him, and her beaten face — the director seemed to be empowering her with that long stare from above.
Laura
That's when I had the thought about the rape-revenge film, in fact! That shot.
Laura
I also think we were watching her watch Jon and think to herself, Did I make the right choice? Am I going to get brutalized by this lot next, or more urgently, is he going to kill me right now?
Cheryl
And then the episode ends with the older woman spitting and urging Jon and the others to torch the keep — they were going to find their own way. As Cersei says, little girls are harmed, everywhere.
Laura
YES. That line seemed to be a turning point of this episode!
Corrin
The retaking of Craster's Keep also was a pretty vivid reminder of the transience of male power that is endemic in Westeros. The men die violent deaths and the women survive, make their own way. From Dany and her dead brother and husband, to Cersei and her dead husband and son, to all the dead male Starks and the surviving Sansa and Arya (with the notable exception of Catelyn). The men who try to rule Craster's wives change, but the women remain. Even those remaining males are oddly feminized (Bran, for one) or in some way less than full men. (Read: Tyrion, Jaime, Varys, Tommen.)
Cheryl
And Hodor! Great point. Yes, it seems the men gain power through acts of violence and are then washed away by another wave of violence, to be replaced by another, and the next — the never-ending cycle. Which brings us to Littlefinger, whom I always thought of as asexual.
Corrin
Littlefinger does seem to be THE power in Westeros right now. With the revelations that Lysa spilled out about how he engineered Jon Arryn's death, coupled with his role in Joffrey's death, one begins to wonder just how many pies his fingers are in? My husband made note last night that he may, in fact, be after the whole enchilada. The Iron Throne itself. It jives neatly with Littlefinger's own admission to Sansa that what he wants is "everything." (Speculation, all, no spoilers.)
Laura
And the frightening thing to me about Littlefinger is that we, the viewers, seem to be the only people who come close to estimating his power accurately. I think Varys fears him, and Sansa certainly does (especially now). Did Sansa hear what Lysa said about killing Jon Arryn? If she did hear, does she understand how directly that relates to her own family's losses?
Cheryl
That rings true, Corrin. I've always suspected that he was silently pushing the pieces forward — kind of like Varys plotting for years to retrieve alive the man who castrated him. Patiently, emotionlessly, silently, stealthily affecting his plans. Sansa seems to be slowly coming to realize that she is being moved about as a pawn, again, now being promised to her cousin.
Corrin
Varys knows what's what, for sure. Tyrion had his suspicions. But there is no cover for illicit activity like the arrogance of those in power.
Laura
Sing it, sister.
Corrin
Can we talk about Lysa? And can I say how tickled I am that she's back in the picture? Such an entertaining wackadoodle! The actress who is playing her, Kate Dickie, is doing so brilliantly. The scene between her and Sansa where she cajoles her with lemon cakes and remembrances of her mother, and switches without a breath to accusations of trysts with Littlefinger — she almost roped ME in, let alone poor Sansa, so desperate for the comfort of family.
Cheryl
Talk about push–pull! Digging her fingers into Sansa's wrists one minute, pulling her close to her chest the next (that chest gets a lot of action).
Do you think her screams of delight were a supernatural effort by Littlefinger to make sure that Sansa heard what she was missing?
Corrin
No. Just Lysa being douchey. IMO.
Laura
Another interesting take on Cersei's quote at play, as Lysa hurt a little girl (if we can still consider Sansa a girl and not a woman).
Cheryl
Didn't Cersei say something to the effect of "you allow everything to your first born" And now we have Sansa in the process of being betrothed to another indulged and kind-of-nuts mama's boy. On to Arya?
Corrin
It felt like the scenes between Arya and the Hound and Brienne and Pod were paralleling each other. Although Brienne is the kinder teacher in her own way, she and the Hound are both trying to protect their young charges. And they both have that air of reluctant admiration combined with total irritation at the youthful follies Pod and Arya display. Like a mama cat cuffing a troublesome kitten.
Cheryl
Yes, "reluctant" seems to be the key word.
An example of the parallel could be that Brienne was struggling to take off her armor (finally acceding and allowing Pod to help her) and the Hound was reminding Arya about the crucial life-saving importance of armor.
Laura
Interesting parallels, especially considering the gender reversal of Pod and Brienne, where the woman is the not-quite-a-knight (as neither Brienne nor the Hound are really proper knights).
Cheryl
Yet, as the Hound seems to want to protect Arya, she wants to kill him …
Corrin
I honestly don't think the Hound begrudges Arya her desire for vengeance upon him. He may think it's foolish, but it's accepted almost with a shrug, like it's his due. If she can do it, he'd accept it.
Laura
I like that the Hound's motives aren't always clear. He seems a bit done with living, in general, just going through the motions — but while he's around, he's darn well not going to see Arya get herself killed doing something foolish. Not paternal, but perhaps …. a tiny shred of hope. The Hound isn't a good guy, but Arya is the chink in his tough armor. To make a bad pun.
Cheryl
And Arya made another reference to Braavos, as did Tywin with that reference to the Iron Bank, and there have been several the past few episodes, so I suspect some upcoming action will involve Braavos.
Corrin
As the Iron Bank apparently owns the Iron Throne, it'll probably come into play.
Cheryl
So what about that scene with Bran et al, the one where Jojen talks about the tree, and then his hand is aflame. I am not sure what to make of all that.
Corrin
It seemed like a reminder of why Bran is important. He's kind of easy to stop caring about at this point. He's the traveller, and slogging through the north isn't the most exciting storyline. I think the flaming hand was Jojen seeing his own death, seeing himself being burnt to prevent him from turning into an Other. (Not a spoiler. Just speculation.)
Laura
And some beautiful effects. I thought Jojen was seeing the mutinous Night's Watch men burning that night when he saw his hand, though.
Cheryl
And none of us really thought that Bran would be allowed to reunite with Jon, did we?
Corrin
No, although that look of longing on Bran's face was touching.
Cheryl
I did not much enjoy like that fight scene. It was so dark, it was hard to care.
Corrin
Agreed! It was hard to tell what was happening.
Laura
Bran really grew up during that night. First he warged into Hodor, killed Locke, and left Hodor shocked and dismayed at the blood literally on his hands. Then he made the hard choice to continue going north instead of reuniting with Jon.
Cheryl
At least Locke died — with Karl, that was two sadists knocked off for the price of one. Laura, I was struck too by Hodor's stunned and hurt look.
Corrin
He might have to get used to it … being used by Bran, that is. I have a feeling it won't be the last time. Again I'm reminded of Master Blaster.
Laura
Let's talk about what we learned about Dany this episode: her decision to stay in Slaver's Bay to retake the cities slipping back into slavery.
Corrin
Dany, Dany, Dany. She's going "to rule."
Laura
imagines Dany making the sign of the devil with her hands Dany rules!
Is Jorah going to bring her back down to earth? She seems pretty bought into this whole queen as god thing, and … that doesn't seem healthy.
Corrin
She's losing sight of the end goal. That's what is irritating about Dany right now. If her goal is to regain the Iron Throne, who gives a shit about Slaver's Bay? It was only a means to an end in the first place.
Cheryl
Yes, Dany has not lost at battle yet, so she has become arrogant — as you spoke of earlier, Corrin.
Corrin
She's getting great advice from Ser Barristan and Ser Jorah. Westeros is incredibly weak and scattered. She could stroll in twirling a cane and take the throne.
Laura
Seriously, just shove Tommen off the throne and sit down. I do sort of see where she's coming from — why should anyone support her as queen in King's Landing if she can't even hold Slaver's Bay? But then again, if she kills a whole bunch of Lannisters and their allies, who's left to argue with her? The lords pick the winner.
Corrin
And, she could come back to Slaver's Bay with the might of Westeros behind her! Dur!
Laura
Especially now that we know how weak the Lannisters really are! Empty gold mines, tons of debt …
Cheryl
Power: so intoxicating.
It seemed to me Jorah was much more restrained and ambivalent about heading to Westeros.
Corrin
Meh. He doesn't want to lose his place by her side. Selfish motives are selfish.
Cheryl
He's cautious, while Daario is much more audacious, like just deciding to take the navy.
We know what's coming next: Tyrion's trial.
Laura
Yes indeed. Tyrion's trial was the backdrop for many conversations this episode, mainly Cersei's.
Cheryl
The key players to be, in my opinion, Oberyn and Varys.
Laura
Oberyn as the wild card on the three-person judging panel, and Varys because … Varys. Right?
One little thing I noticed: Interesting that Podrick tells Brienne how he killed Ser Mandon Moore at the Battle of the Blackwater (to save Tyrion) by stabbing him through the head with a spear, and then Jon Snow killed Karl the same way. Also, no need to show that sword in slow-mo, GoT. Yuck. (Well, not literally slow-mo, but you know what I mean.)
Cheryl
That was awful to see.
Best line was when the oldest huddled crone addressed Jon as "Ser Crow."
Join the discussion in comments. But no spoilers, please … and Congratulations, Laura!