I have kind of a love/hate relationship with Dave Grohl. Of course, I'm a big fan of Nirvana, I liked Foo Fighters first couple of albums, but for the most part they started to lose me after, I dunno, There is Nothing Left To Lose. I go back and forth about Grohl personally too. I appreciate his commitment to analog audio production and his resistance to relying on digital tools like Pro Tools to create music, but he can get pretty preachy and crotchety about it.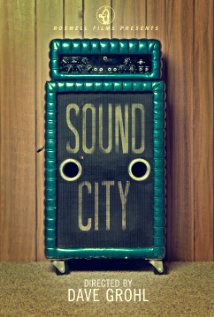 But I do appreciate the overall sentiment behind all of the condescension, and I do appreciate that his passion for analog (and more organic forms of musical expression in general) inspired him to direct Sound City, a heartfelt love letter to the Van Nuys, California recording studio that gave him his start as a professional musician – and the fabled mixing console that helped to create the sound of dozens of classic rock albums. After Sound City closed in 2011, Grohl bought the console and gave it a new home in his own personal studio.
For rock geeks this, documentary is nirvana (hey-o!) it's a who's-who of rock luminaries (Fleetwood Mac, Neil Young, Butch Vig, Tom Petty, Trent Reznor, that guy from Slipknot) waxing nostalgic about their experiences at Sound City, we get a glimpse of how Fleetwood Mac's Rumours came to be, and some background into the production of Nirvana's Nevermind, and even footage of the recording of Rage Against The Machine's first album. It's pretty much romanticized rock geekery at its finest, and I have no problem with that. It honestly reminded me of what VH1's Behind The Music series did so well, bring some of the drama and mystique back to music and musicians. These days, thanks to Twitter and the like , we tend to get a blow-by-blow of every single thing a musician is thinking and doing in real time. We see and hear behind the scene snippets of a song or album before it even comes out – and it's hard to construct legends that way. Seeing dozens of mega-rock stars tell their colorful, possibly embellished stories of their days in the studio, it's a film that essentially makes itself in a way. It even makes a compelling story out of less-legendary events, like the surprisingly emotional story of 80's rock star Rick Springfield's rise to fame and his long history with Sound City owner Joe Gottfried, Springfield's manager/father figure.
Gear nerds are probably going to be a bit disappointed that Grohl doesn't get super-geeky about the nuts and bolts of the mixing console, but he does get into some of the pro-and-con arguments about analog vs. digital recording (with Trent Reznor providing some editorial balance on the digital end of things.) But honestly, stories are the core of Sound City, not so much the gear itself but the relationships, the memories, the magic of playing music and that's what makes the movie enjoyable to watch. Rather than approaching the movie as a musician or even a gear head, Sound City is a fan's movie and that's what makes it work.