by Keidra Chaney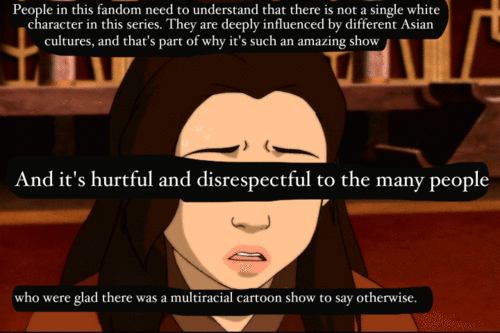 I've been doing a lot of reading in fandom circles about diversity, identity and geek culture. There's been a lot to cover, in the wake of the "diversity and Doctor Who" discussion and the recent facepalm-worthy comments from Todd MacFarlane and Mark Millar about diversity in comics at the Television Critics Association conference.
One of the things that keeps coming up for me is a continuing discussion about fandom ownership: who does fandom "belong" to? Normally on TLF the discussion of fandom ownership is centered around intellectual property and media texts. In this case, I am referring to a presumed ownership of fandom identity.
Fan communities and pop culture conversation becomes more than just a reflection of taste for people, it is a reflection of culture, upbringing. The shared language of pop culture and our pop culture tastes are an easy way to self-identify to the public — how we relate to the world. And in part due to online communications, how we relate to each other through these texts becomes more important to us, more a part of our daily lives. I'm not putting a value judgment on it — for now — I'm just observing.
Fan culture can be more than just a social community, it's also identity, a tribe of sorts, and often those identities are connected to cultural, racial, ethnic, gender, class distinctions and presumptions. Think of all the online comments from people talking about how diversity dilutes "their" fandom, the presumption that fandom identity is owned by certain demographic subsections of people and that race or gender is a distraction to a story, rather than another element of storytelling. Like these delightful comments below: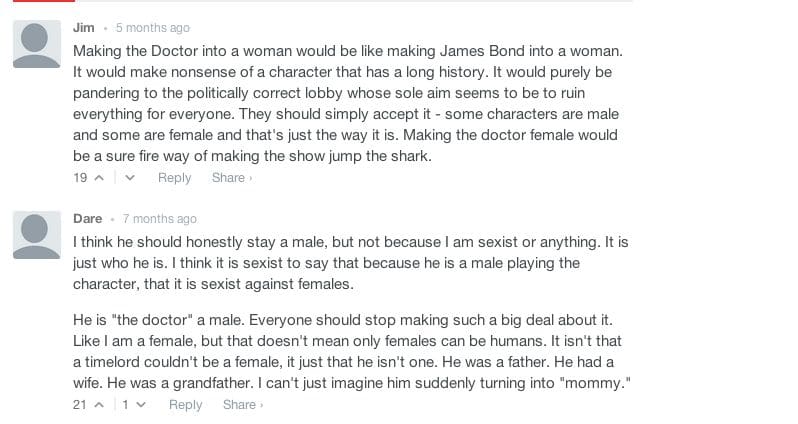 So does Doctor Who "belong" to guys? To white guys? To white British guys? Because black people have Lando do we get to "have" Star Wars without being "politically incorrect"? Is that how this works?
But, of course, these distinctions are not just made in geek culture either. Sports fan identity doesn't "belong" to women, but soaps or reality TV presumably does. In this funny/stereotype laden illustrated breakdown of metal fans, women fans don't get to have an identity outside of being a woman in metal, because "metalhead identity" is male.
Of course now, many of the fandom conversations that used to be insular, or presumed private to a certain extent are made public via social media communities. The idea that people of color or women are "infiltrating fan culture" is of course a fallacy, we were always there, but an increasingly de-anonymized online culture means we're no longer hiding in plain sight. And for some fans, being acknowledged within fandom is a priority, if not a prerequisite for participation. A couple of days ago I read the following post on the SexGenderBody tumblr (Warning, the blog itself occasionally has NSFW content if you feel like browsing.)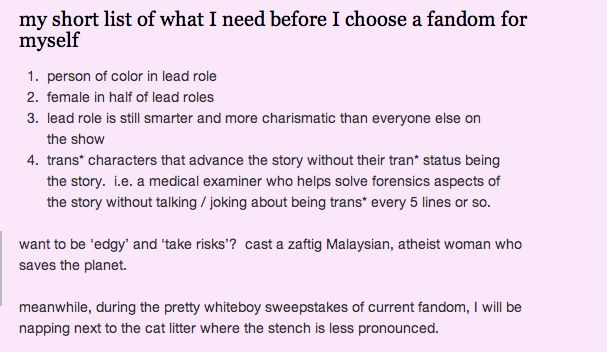 This was an interesting take for me, because it approaches fandom and identity in a way that I am personally not used to doing. My identity as a black woman will certainly not keep me from enjoying a well-done TV show or movie or album or keep me from participation in a fan community, just because I don't see anyone like me. (hello, metal) But at the same time, I think it's absolutely relevant and justified to call out fandom's usual presumptions of a homogenous audience.
Is fandom a tribal endeavor? Are we, as audiences, attracted to pop culture texts (or more importantly fan communities) based on their reflections of our own lives, our own values? Maybe. The discussion about racial/cultural/gender diversity in fandom is ultimately about representation within those common conversations and stories that ostensibly serve to unite us all.