The TLF Executive Staff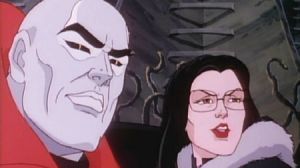 After a bout of several illnesses in the TLF Executive Offices, minds started to wander. And what did we think about? Animated shows for children that feature, well, grown-folks relationships. This excludes examples of parents (because that is implied) or shows that are multi-directional in audience (like the Simpsons), but the shows that used to be called Saturday morning cartoons, where children are the primary assumed audience. These are some examples:
G.I. Joe: Destro and the Baroness
[youtube_sc url="http://www.youtube.com/watch?v=atqFBB15Voc"]
The Baroness was legendary enough to inspire both a band name and Lady Une from Gundam Wing (*eyeroll* yes we know these statements are not true, just humor us.) Destro was a guy with an aluminum-plated face. But every time they were in a room together, it was obvious that they were really, really into each other. In a totally-not-appropriate for kids kinda way.
Don't believe us? An older fanvid set to Biggie Smalls' (featuring Lil' Kim) Get Money says all about how this couple was ride or die. On a show that didn't even use real bullets.
Jem and The Holograms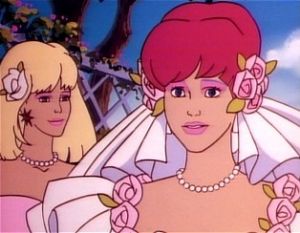 Poor Jem/Jerrica. Her boyfriend cheated on her… with her alter ego/real self. Why was she willing to put up with this? Clearly, it was his bedroom skills, because he was not at all a good manager. (Or it's Jerrica's low self-esteem, or a kink of some sort. Whatever, we will not judge.)
And when Lion-O Junior (Riot) shows up later in the series, Rio gets jealous. Jealous enough to try to hang on to both Jem and Jerrica. Typical.
And let's not get into the lyrics of Jem and The Holograms "Who is He Kissing"
Who is he kissing
Is it me?
Or is he making love to a fantasy?
These are the actual lyrics. WE ARE CHILDREN, YO!!!!
The show had several other couples that were together – Shana and her boyfriend/fiancé, Hype Williams prototype Anthony Julian. But at least he was supportive of her multiple career choice/talent (fashion designer! drummer! bass player!) even if she couldn't stay away from the band that was holding her back Holograms.
Aja had a boyfriend too, a low-level "Romeo and Juliet" situation with Stormer's brother Craig (attempting to keep those blue hair genes going.) And Kimber, despite being a massive jerk and a huge whiner and tantrum thrower, seemed to get a lot of action and had about 4 or 5 hookups on the show, because of course. Of course. Poor Raya didn't get to have a love life, because she showed up too late in the series for anyone to care.
Justice League: Batman and Wonder Woman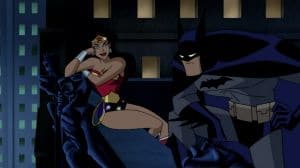 A highlight of the Justice League animated series was Batman and Wonder Woman's low-key relationship. (Thanks Dwayne McDuffie, RIP, we know that was your hand.) Unlike Shayera and John Stewart, who liked to puke all their relationship emo all over the TV screen, Bats and WW liked to keep it chill, sometimes "pretending" to make out while on assignment, or making under the radar references to their boot-knocking. (paraphrasing here:)
Batman:(to all, but looking at Wonder Woman) "I'm out, you know where to find me."
Wonder Woman: (side-eye)"Uhhhhh-huh"
You know where she's gonna find him? IN BED, that's where. Get it, Diana.
Jacob Two-Two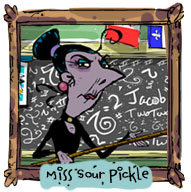 This underrated Canadian show has many fantastical elements in telling the story of a ten year old, Jacob Two-Two. But one part that is definitely … realistic is the romance between Jacob's principal, Principal Greedyguts, and teacher, Ms. SourPickle. When not coming up with illegal money-making schemes, they are horizontal mambo-ing.
Thundercats (old school) Cheetara and Tygra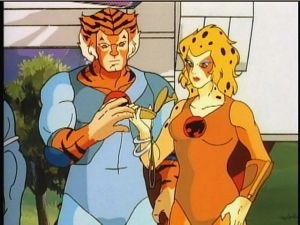 Hilariously, in writing this, we couldn't remember whether Cheetara was banging Tygra or Panthro in the old series, so we had to look it up. We knew it was one of them, though. Clearly it wasn't that interesting of a relationship for TLF because we don't remember any details, but it was interesting enough for them to have some kids. And apparently they kept this relationship for the 2011 series too, hopefully it was more interesting there.
Curious George: The Man in the Yellow Hat and Professor Wiseman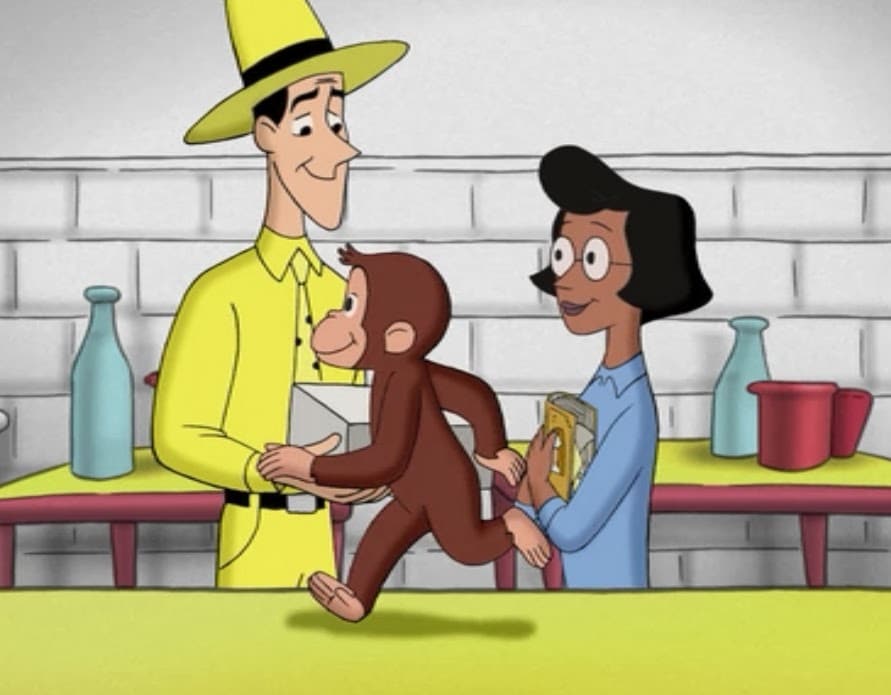 The Man in the Yellow Hat is an odd guy. He "adopts" a chimp – and yet calls him a monkey. But he does have a girlfriend, ish. Professor Wiseman works closely with The Man – they even go on vacation together. While watching a show with animals with eyebrows, it's hard to find connections to reality – but they are really together and trying to keep things quiet … presumably so the monkey doesn't find out.
Just Google "man yellow hat wiseman" to see that we are far from the only ones who think so, with theories ranging from booty call to one step away from marriage!