by Keidra Chaney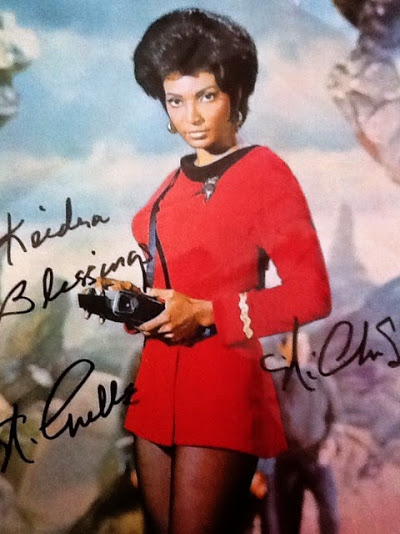 This past week was the 48th anniversary of Star Trek's premiere as a TV series on NBC. Coincidentally, this week I also listened to an old interview with Neil DeGrasse Tyson and Nichelle Nichols, as she talked about her iconic role as Lt, Uhura, and her career-altering conversation with Dr. Martin Luther King Jr. who convinced her to stay on the show after she considered leaving after the first season. It's a great conversation and an illuminating story. Nichols is a talented singer and live theater actress; she was considering leaving television to return to the stage, when Dr. King met her at an NAACP fundraiser:
"Miss Nichols, I am your greatest fan.' I thought – 'what an incredible moment.' I just, was flabbergasted. And he begins to speak about my role on television, and the power of Star Trek, and how important it is…

In the meantime, for the first time in my life, I had no words to say. I could speak anyway, I'm shaking in front of this man. And he is saying how important Star Trek is to the future. That this man who has written this, who has produced this, has seen the future – and we are there, because you are there. He said "you have one of the most important roles. This is a first. It's non-stereotypical, it's brilliance, it's beauty, and it's intelligence. And you do it with warmth and grace."
To serve as a public role model is a heavy responsibility for any actor to live up to. But Nichelle Nichols' choice to stay has influenced and changed the lives of generations of Trek fans. It certainly changed me.
As a second-gen Trekkie, geek and black lady, Uhura has long served as an avatar of sorts for me, as I am sure she has for many other black geeks. I've dressed up as her for several Halloweens and even played a show with my band dressed up as her. My Uhura costume is more than a tribute to her character, but a public shorthand of sorts, a way to declare my nerdiness and my black-womanness in equal measure. For me, watching Star Trek with my family on Sunday afternoons before dinner, Uhura represented not only beauty, smarts, and professionalism but most importantly adventure. The kind of adventure that didn't include black women. Space adventure.
It's often argued that by today's sophisticated TV standards, Uhura is hardly a three-dimensional television character; her voice, or motivations or desires don't propel any story. She's there mostly in the background, and mostly in a mini dress. And yesyesyes a feminist critique of women characters on the original Star Trek will find her depiction as problematic. But there's contemporary sci-fi that passes the Bechdel Test, yes, but still see black women as non-entities. Uhura, in 1966, was there, she was present, and her presence was powerful.
And while not as well known as Uhura, for a subset of Gen-Xers and young Millenials, another character played a similar role: Claudia Grant of the 80's anime Robotech. I would even say for me personally, Claudia was an even bigger influence on me as a youngster than Uhura was, though Nichelle Nicols/Uhura's impact endured longer. Maybe this is in part because Claudia dies at the end of Robotech which emotionally scarred me for at least two full days. (I later learned that Claudia actually doesn't perish at the end of the original Japanese edit of Robotech, Macross, and if I ever have the chance to meet Carl Macek, who adapted the anime for the U.S., I will have words with him about why exactly he made that choice.)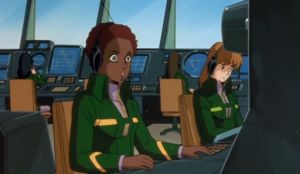 Anyway, Claudia was essentially an anime alter ego of Uhura in a way: bridge officer and later third-in-command of the SDF-1. I had never seen an animated character like her anywhere, with her short brown 'fro, taking charge in space. Like Uhura, she was not a major protagonist, she spent a lot of time listening BFF/supervisor Lisa Hayes boo-hoo over her romance issues with Rick Hunter in a manner that brings her dangerously close to being the Black Best Friend. But Claudia got to have her own storylines, and even her romantic issues with boozing pilot Roy Fokker, and for child-me this opened up a brave new world of exciting Bad Romantic Choices. Honestly, Claudia still gets more action than a lot of woman of color friend characters get on contemporary TV shows, so there's something to be said for that.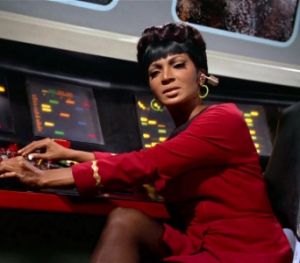 In a previous blog post, I mentioned that when it comes to television and pop culture, not seeing my life experience and likeness reflected on screen isn't necessarily a deal breaker for me, but at the same time, representation is incredibly important, especially in sci-fi. Of all the genres where you can imagine all sorts of possible realities and futures to see people like you as a part of those worlds makes an impact. And to see yourself erased from it means even more. There's certainly some kind of unsettling collective statement in the proliferation of dystopian future teen romances with plucky white girls at the center of them all. There's so much room for so much more in sci-fi TV and film (seriously, it's simply offensive that there's not been an Octavia Butler adaptation for TV or film yet.) but sometimes even little things mean a lot.
There's a scene in Guardians of the Galaxy, early on in one of the cities, where I spied one of the people in the crowd, a black woman with a teeny weeny afro, and did a little dance of joy in my seat. "We're here!" I thought! "We exist in the far reaches of outer space!" I know it sounds ridiculous, but I also imagine a girl not too much older than I was when I first saw Uhura and Claudia feeling the same way. When you know that black girls are in the future, you feel empowered to do anything.