by Viv Obarski
I'll be honest — when I wrote the Mulan piece, I didn't expect to see change happen. I've been around long enough to see large corporations give a nice pat statement and never address the concerns of consumers.
So when I saw a post on feminist Disney about the changes in Mulan's redesign, I was pleasantly surprised. Thrilled even that the voices of consumers can guide a behemoth at times. Say hello to the revised Mulan: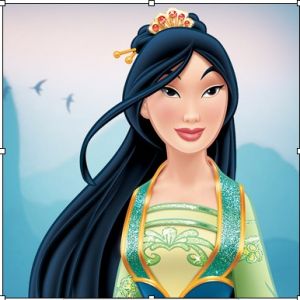 I'm thrilled that they addressed the biggest issues that many people had with the initial Mulan redesign — that she didn't look Asian at all. This skin tone is closer to the movie, her face is rounder and her eyes even have the brown tint as opposed to blue. And her outfit is also gorgeous and appropriate for Mulan — it's reminiscent of the dress she wears towards the end, but it's also got a bit of glamor to it. It feels like something she'd pick out, as opposed to something she was forced into.
So four for you Disney. Thank you for listening to us.