by Nicole Keating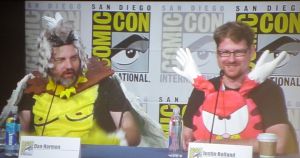 What a lovely Friday!
As I write this recap, I'm waiting in the fabled Hall H line for the Saturday panels, thinking back to this Friday morning when I was able to wake up at a luxurious 6am and still make it into the front of the Indigo Ballroom for the Cartoon Network/animation block of panels.
These panels are quickly becoming a staple of my Comic Con experience. Last year, I skipped them for the Game of Thrones panel, and I was disappointed. Not only do these animation-based panels–especially Adult Swim and FX's Archer–offer laughter and imagination and joy and vulgarity and comedy, but the presenters are all extremely accessible: Archer's Lucky Yates was in the elevator with me this morning, Venture Bros' Doc Hammer and Jackson Publick were hangin out at Starbucks, and all three are in staying in my hotel. There's no pretension and no arrogance. Other than that which comes along with being naturally dope, of course. Like a People Magazine's "Celebrities! They're just like us!" in real life!
Plus everyone offers really solid advice on writing, acting, and producing for comedic television, what I'm currently teaching myself to do! So it feels good to hear little bits of encouragement from peeps who've been there.
Here are the highlights.
Uncle Grandpa
As the creator of Uncle Grandpa and the voice of the title character, Peter Browngart said "Cartoons can do impossible things." The sense of the impossible and surreal was certainly evident in all of the materials the UG team brought. From what I saw, the show has a Ren & Stimpy vibe, which was confirmed by a fourth-wall-breaking table read. They revealed some of next season's special guests–Tone Loc (!!!), Shaq, and Henry Rollins–a fun short from Adventure Time's Pendleton Ward, and an upcoming comic!
Clarence
The Clarence panel started with a sizzle reel, which included a sequence at a Chuck-E-Cheez type restaurant where the titular Clarence approaches the ball pit and says, "Put your shoes in the cubby. And then you take a fresh pair." And he reaches for princess-themed sneakers that light up when he walks. And, yes, I coveted those shoes as a child. Light-up shoes, ball pits, and elementary school…Clarence seems grounded in all these real childhood experiences. They then showed some of next season's clips as well as some animatics of a Bettie Boop-style episode, displaying an admirably broad variety of animation styles. They finished with a Q&A, and someone nicknaming cast member Tom Kenney Spongecash. I would further suggest Spongecash Coinpants.
What time is it? Adventure Time!
The panel began with the above chant, so we started strong. The panel got better and better, with repeat moderator Tom Kenney slipping in and out of his Ice King voice, the voice actors for Finn and Marceline singing an a capella "Daddy Why Did You Eat My Fries," and a number of delectable clips. There's an upcoming Lumpy Space Princess and Marceline episode, a Lemongrab spiritual enlightenment episode, and a Finn-goes-it-alone episode that features some sort of cloud-like guardian (it was animatics, so it was hard to tell, okay?) referring to Jake as "Supple Yellow Dog."
Fans of the show and the deeply human lessons that it embodies will be thrilled to hear that the land of Ooo will return for a 7th season!!
You should also check out Jeremy Shada's (Finn) band Makeout Monday, Justin Roiland's (Lemongrab) new comic Bananaguard Academy, and John DiMaggio's new documentary on voice acting I Know That Voice.
Venture Brothers
I love Venture Bros panels. They're irreverent and witty and totally bananas. They're never moderated, and always have the same three people. I'll set it up for you: A revved-up, sleep-deprived crowd, no moderator, creators and actors Doc Hammer and Jackson Publick as well as actor James Urbaniak.
The AV crew flubbed these gentlemen's first entrance music, so they went back and did it again.
"YOOO I tell ya what I want what I really really want," blared The Spice Girls. Our panelsits enter like a whimsical glam rock trio–Jackson Publick in head-to-toe seersucker, Doc Hammer in a purple plaid suit, both in Ray Bans, followed by Urbaniak in a loud paisley top.
Rather than bore you with a wordy recap, here are my bullet points–NAY exclamation points–of best quotes.
When asked who his ideal panel guests would be, Doc Hammer answered, "The General from the insurance commercials, that Harry Potter Guy, Nelly, and the Cheerios Bee."
"You committed to your full dandyism."
"A gentleman does not remove his jacket in public."
"My sweat stains go down to my elbows."
"Do you know what prolapse is? …I got real close."
"Trip them up like so much Columbo."
"We are big fans of our own television show."
"We have our heads so far up our own buttholes that we can see what we ate yesterday."
"I cut my head on a towel."
"I put sunscreen on to do a panel."
"I put on deodorant yesterday but didn't really cause I forgot to take the plastic thing off."
"Everybody dribbled peepee all at once."
"Diarrhea was a real killer of great men."
These three men are hilarious and just the right amount of insane. If you're ever in San Diego for the convention, you should really try to make it out to see the Venture Bros panel. You won't be sorry.
Triumph/McBrayer
I missed some of the next panel to run up to the room and charge my phone, but I made it down in time to see some nice interactions between Jack McBrayer and Robert Smigel. The premise is meta: a stand-up gets his own show. Like Seinfeld or The Wayans. Only this time the stand-up is Triumph, and the history of his career is completely fabricated. There's promise there, but I don't know that I'll go out of my way to watch this show.
Rick & Morty
Breakout hit Rick & Morty had a loud, excited audience. This lil show from Justin Roiland and Dan Harmon got so popular in its first season, and rightly so. The show approaches the world with a sense of limitless possibility, and they embue their viewers with this hope-despite-disaster mentality. For example, Dan Harmon wore a bird costume. It was clearly made of cardboard, duct tape, and craft store feathers (disaster), yet I still wrote "DAN HARMON IS MY GOD NOW" in the margins of my notebook (hope).
I would highly recommend this series, coming out on DVD/BluRay soon. As added incentive Cartoon Network is scattering 22 "The Good Morty" pamphlets (an in-show reference) throughout disc packages, Golden Ticket-style!! There's also original animatics, a behind-the-scenes documentary, and multiple commentaries per episode.
For aspiring content creators myself, Harmon and Roiland recommend creating something once each month. And not just creating, but also finishing! Then you have created something and don't spend all your time enmeshed in the energy and frustrations of the creative process.
All in all, an enlightening and entertaining panel!
Mike Tyson Mysteries
Oh man. Just……oh man.
Mike Tyson Mysteries is a cartoon in the grand tradition of old school Hanna Barbara cartoons like Scooby Doo. Mike Tyson solves mysteries with his adopted Korean daughter, a pigeon, and a late-19th century ghost played by Community's Jim Rash.
Mike Tyson is……..quite a character. He tows the line between appropriate and OMGWUTDIDYOUSAY with the natural skill and threat of danger of a tightrope walker. This calls for another quote list.
Ladies and gentlemen, Mr. Mike Tyson:
On why he decided to do the show: "I've never been a cartoon character and I decided to make me a cartoon character."
On how he differs from his cartoon persona: "I've never adopted a Chinese girl." The character is Korean.
To co-star Jim Rash: "Wait, are you the pigeon?" Jim Rash: "No. I'm the ghost."
20-Something Audience Member During the Q&A: "Mr. Tyson, I'm a lifelong fan and–" MT: "How can you be a lifelong fan? You're only 12!" Audience roars with laughter. MT: "Stop, I'm not funny." Audience member: "You are funny…but I'm 13."
Lastly, presented without comment: "We need more Mexicans."
Robot Chicken
True confessions: I've been obsessed with Seth Green and Breckin Meyer since tweenhood. I know we're meant to be BFFs. What can I say? I have a soft spot for dudes who are half a-hole, half charm, and all nerd. The Robot Chicken team is basically my soul mate.
They began by showing us a short special episode dedicated to beloved Strawberry Shortcake-inspired character (and likely one of my upcoming cosplays) Bitch Pudding, voiced by the ineffable Katee Sackhoff. There were questions from the audience that were all answered in the lightheartedly mocking tone of the show itself, including a plea to get the afore-seen Mike Tyson on the show, and then an extra special announcement from the bros. [Seriously, y'all are really bro-y. Invite me to your writers room. I'm also an a-hole, so I'll fit in, but I'm a lady so QUOTA FILLED!]
Robot Chicken will be collaborating with Team Unicorn, the nerd girl collective headed by Green's wife Claire Grant. They celebrate cosplay, referential humour, and creativity with a very feminine edge. Unsurprisingly, these ladies are some of my career role models. They will join forces to form MEGAZORD Team Unicorn's Saturday Action Fun Hour. It's a throwback to children's shows of yesteryear, with a live action intro/outro and an animated center. Like a Twinkie!
Bob's Burgers

I'm new to Bob's Burgers, but I love every second of this show. The new season starts October 5th, and I'd highly recommend getting caught up before then. It's so funny. Plus, unlike shows like Family Guy where the humor comes from the family treating each other kinda crappy, the Belcher family at the center of Bob's Burgers really seems to love each other! The comedy comes instead from the outlandish characterizations provided by the skilled comedians behind the voices, including the likes of H. Jon Benjamin, Eugene Mirman, and Kristen Schaal.

Dan Mintz, one of the writers, voices adolescent daughter and fan favorite Tina, who likes "horses, magic, and boys." The swag for this panel was a sturdy (made in Canada, so you know it'll treat you right) Tina mask. That's me sporting it up above.
Tina also writes erotic friend-fiction. That's like fan fiction, except you cast your friends. The most exciting announcement for me was the reveal that Tina has contributed a friend-fiction piece to Rookie Magazine. (An online zine masterminded by wunderkind Tavi Gevinson, right now appearing in This Is Our Youth at sweet-home-Chicago's Steppenwolf Theater, Rookie regularly publishes a real-live book version called Yearbook, in which said piece will appear. It's one of my fave sites and yet another career influence for me, so I of course highly recommend checking it out.)
This friend-fiction piece is an "elaborate Labyrinth fantasy."
That's three–count 'em THREE–of my favorite things combined into ONE THING.
Thank you, Bob's Burgers.
Thank you.
Archer
Okay, kids, it's the piece de resistance: FX's spy satire Archer.
Archer has been a television fave of mine for some time, to the point where references to the show bleed into my vernacular. They're no longer quotes. They're part of my language, and everyone seems to know what I mean. This show is a standout because of its incredible characters brought to life by skilled animators, hilarious writers, and fearless actors like venerable nerd girl and my lover-though-she-doesn't-know-it-yet Aisha Tyler.
The Archer panel boasted some of Tyler's fantastic one-liners: "I looked deep into Josh Hartnett's eyes, and I almost peed myself just a liiiiiiittle bit." "I'm an expert at stealing semen. If you go to stealingsemen.org…" I could go on, but why don't you check out more of Tyler's work yourself? Not actually on stealingsemen.org. How about on Twitter @aishatyler? Do it. She's the best.
But wait; there's more. They announced upcoming special guest voices, like the return of Christian Slater and Fargo's Allison Tolman.
But wait! There's more! We got to watch the Season 6 premiere, and it looks like this season has all the action, hilarity, and "PHRASING" of seasons past!
But wait! There's EVEN MORE! Archer has been renewed for a Season 7! Sing out your praises, nerds!
Thus concludes SDCC Day 2. Aight, I'm outtie! The Hall H line for Saturday's panels is moving, and I gotta finish this thing before my battery di