by Vivian Obarski and Keidra Chaney

This conversation was on the heels of an in-person conversation that Viv and I had earlier this year, there's much less profanity, but the ideas are the same. – KDC
VO: Is it just me or is this year the year of harassing geek women? There's been tons of news about people questioning Felicia Day's geek cred, the harassment of Anita Sarkeesian for the Tropes vs. Women in Video Games web series and the whole line of "what's a real geek"? What's even funnier is seeing this happen roughly at the same time as what was going on in the metal scene.
KDC: Definitely not just you, I think it's happening in a number of fan communities, that "Girls don't like metal" post from Metal Sucks comes to mind, even though it was last year. And there have definitely been similar sentiments pop up in other blogs. It's like open season on chicks who dare to enjoy any kind of pop culture that isn't Twilight or Fifty Shades of Grey. And it's weird to me because I swear this level of anger towards women in fan communities seems relatively recent, or at least more pronounced as of late.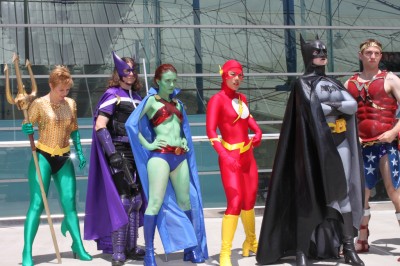 VO: I think that some of this that the conversation is coming to the forefront. The Internet is offering the ability for women to speak up and tell their stories and I suspect that (geek-wise) they're upset because they've always been seen as the outsiders that welcome everyone, and it turns out it's not quite the case. Plenty of my friends have stories of being talked down to or having people play their characters at conventions or where gaming professionals talk to their boyfriends or husbands even though they asked the question.
The anger to me is reactionary to them finally being called out on their shit. And it's not every guy, but it's also food for thought on the culture as a whole.
KDC: I definitely agree with you, it's not like like girl geeks are anything new. they're not even new to fandom, or online fan communities (i am thinking of old school Star Trek fandom, or the Beauty and the Beast TV show or X-Files fandom in the 90's) But I do think social media has brought different subsections and fandom niches together in a way that never happened as much before and allowed (forced?) them to co-exist. There's not a cross-pollination of fandom in-jokes, tropes and culture and maybe for some fanboys, I think there's a feeling that their special club has been invaded.
Fandom diversity because "mainstream" with social media because it encourages a higher level of transparency, rather than the total anonymity of the old school Internet (BBS, Usenet, etc.) I'm sure back in the day, people thought I was a guy, with the screenname "Pastor of Muppets," and the fact that I never made a point to call attention to my gender (or for that matter, my race) I've had a couple of different experiences with this because as a metalhead, I feel like I've not really been talked down to or condescended to much, but then, I'm not super active in online metal fandom, where I think there's more of that kind of behavior. Personally, I feel like male-dominated online fan culture tends to be more combative by nature, which I think plays a big role.
VO: I think it's also seeing a different perspective that may not mesh with what they want — for example the vitriol aimed at DC's reboot and their portrayal of Starfire (which is really, really awful and I can't see letting my daughter read that, even though she loves Tiny Titans and Teen Titans). It's like they fail to realize that there's other audiences out there and it's more diverse than what they think.
What I don't get is that by ridiculing others, they're alienating a potential audience that was ALWAYS there, but never noticed. To say that we're not "real geeks" or that our voices don't matter is incredibly insulting. I mean, being ignored is one thing, but outright dismissed? That's fucking war in my book. But this also reminds me of the rock scene and how people start slagging off on an indie band when they start playing MTV or getting larger audience notice. They're not selling out – there's just a wider audience than what you initially thought.
KDC: I do feel like issues of wanting to maintain the status quo come into play: people want what they want and in many cases, especially with fandom, radical change on any level is usually not welcomed with open arms, but this is different to me, this has way more to do with (here we go…) privilege and entitlement, the belief that these communities were only meant for men and can only speak to men and that women are interlopers. I think about the whole music blogger trend of classifying melodic or (non-brootal) metal as "girlfriend metal" as if a.) only women like melody b.) only melodic bands are "safe" or "appropriate" for women. Which of course is some grade- A bullshit. I really do think it has to do with the idea that women are not only participating in these fan communities, but also carving out spaces where the approval and participation of male fans as so – called "experts" is not needed or even considered as a factor of our own enjoyment.
So what to do? Is there anything we, as fangirls, can do, except continue to speak out and be ourselves?
VO: What I've seen from my friends, and what I tend to do is just keep on keeping on. Don't leave because of some asshats (and really, most of the geek dudes I meet at Gen Con are good players and good guys overall) are being jerks. You call them out on that shit and make them rethink their positions. Also, for me, having a good group of friends who are willing to speak up also helps. My view is that they need to be reminded that we won't go away. We are here to stay and we will continue doing what we like to do, even if you're weirded out, feel the need to categorize it or talk down to us. We're here whether you want us around or not.
We'd like to hear your thoughts. Is sexism in fandom on the rise? Or are we just hearing about it more via social media? Leave your comments!