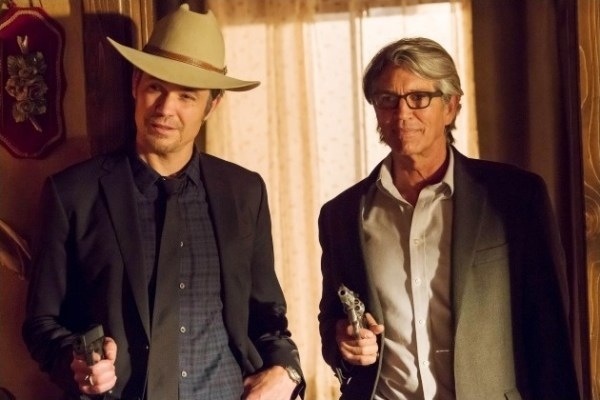 by Cheryl Collins
"Wring Road," the most recent episode of Justified, gives us glimpses of Raylan's past, present, and future; it also showed us characters who have hit a certain age and place and wondered how they hell they got there.
Raylan starts his vacation nursing a drink at a bar after Alison dumped him. This being Raylan, an attractive and chirpy woman soon sidles up alongside. It turns out she's a pro who offers him a discount day rate of 500 dollars per. "I look like the kind of guy who needs to pay for it now?" reads the thought bubble above his head. "I guess I'm not the lanky young stud I was." He heads directly to his car and picks up a work file. But he's on vacation! Instead of heading to see his daughter in Florida, he flies to Memphis to track down Hot Rod Dunham and his crew.
In Memphis he meets agent Miller, the Ghost of Raylan Future. Eric Roberts plays a flask-sipping DEA agent who happens to be an excellent shot; a workaholic with kids he's managed to mostly avoid. They find Hot Rod, a few minutes from death. It turns out that Hot Rod has been working as Miller's informant; the line between the two is blurry, and there is affection there. Sound familiar?
Back to Kentucky. After outmaneuvering and killing cousin Johnny, buying and transporting a load of heroin from Mexico, and keeping an ever-watchful eye on the gaggle of murderous Crowes, Boyd finally has time to visit Ava in the state pen. But she doesn't have much time for him. He is effusive, but she is curt and delivers a message — someone will come to see you, do as she asks — before turning to leave. She's calling the shots now, and he's not used to it.
In the prison dorm, Ava is confronted by a strung-out addict wielding a shiv, angry that Ava has denied her her fix. (Weirdly, that dorm is all white. How did that happen?) Goddess-loving protector Judith steps in between Ava and the shiv, talking the addict down.
Ava's supply route — the prison nurse — pays Boyd a visit at his bar. It was a moment of cognitive dissonance: a no-nonsense black women in that good old boy's haven. She tells Boyd he has to do something for her if he wants to help Ava bring heroin into prison: kill someone in revenge for her. He is less disturbed by the request than the fact that Ava is arranging her own system of protection and he doesn't know about it.
That guy Boyd has to kill? Turns out it's an ill old man in a nursing home.
Boyd, who opened the season not just killing a man in his bed but damning his eternal memory, went on to gun down his last surviving relative in the last episode, and now toodles further along the highway to hell by killing an old man whom he had never met and never crossed for the sole purpose of helping Ava. Although it clearly weighs on him, he does the deed (or, has Jimmy do it). Once you are traveling down that highway — once that wrong turn has been taken — the slope is a slippery one. Boyd's eventual end will be an ugly one, no doubt.
But even that is not enough. The nurse tells Ava she has one more hurdle to jump before she will help funnel the dope into the prison: she must kill Judith. Ava must now choose which road she'll travel down, to kill her protector or face the consequences. She is traveling down her road alone, she realizes, and she is much more interesting now that she has.
And then there's Dewey. Having been pushed out of his Edenic paradise — heaven for him was an aboveground swimming pool and plentiful cheap whores — prodded into killing Messer, and humiliated and shit on week after week, Dewey finally breaks. He too took that wrong turn when he shot Messer, and there aren't many directions to go. With a primal scream, he ends the episode running over Miller and his demented cousin Danny (who lives).
Kendall is the 12–year-old Ghost of Raylan Past: miserable and surrounded by conniving, criminal assholes. Like Ava, he's imprisoned, and his supposed protector — mom Wendy — is not up to the task. Kendall fumes after Daryl takes the envelope of cash Raylan had given him, his ticket to future freedom. Perhaps the question is not if, but how, he will take his fate into his own hands. And which turn along the highway will he make?
We end with the Ghost of Raylan Present. He returns to a darkened office as Art packs up for the evening. Raylan has been adrift all season, a step behind, and drinking too much — and not particularly interesting on top of it. After his passive complicity in Nicky Augustine's death last season, he is neither here nor there: in purgatory, one might say. He finally confessed his sins to Art, but Art refuses to expiate them — no absolution has been offered. In there late night confrontation, Raylan wants to make things right, but Art refuses to even see him. "I'm still the boss," he says, "if I say you're not here, you're not here," as Raylan watches him in the dim light, wraith-like. Does Raylan's future end like Miller's, mowed down on a darkened highway by some low-IQ flunkie with an "I [heart] Hitler" tattoo? I suppose it matters if and how he expiates his sins — and if he chooses Miller's path.
Upon reflection, I appreciated the ideas the story editor and writers are trying to express, but much less thrilled with their actual execution. The opener was visually strong, with Carl and the ding-dong Crowes waiting for the heroin shipment on a nameless highway close to the Mexican border (with obligatory hawk screech). Badass Carl and Danny Crowe have unfinished business, and I longed for some snarky Elmore Leonard–inspired dialogue, both here and in the last episode, when they were stuck in the back of a hot truck with a pile of dope and dead bodies. But no; the best we got was "sweet tits" and a few close-ups of trailer bolts, for some reason. And there's not anything good to say about what was supposed to be the high-tension climax of the episode: Hot Rod's goons quoting Shakespeare and waving guns around a table full of criminals, while Boyd begins to go off the rails. Bo-ring! So much potential in this episode, and just so little that felt compelling. Kind of like Raylan's story arc this entire season.
Use of the word "pussy": 2. Once by a female inmate. That doesn't make it better.
Note: A new Cadillac commercial has been getting a lot of attention for it's in-your-face attitude (discussed at length on Bill Maher the other night), starring Neal McDonaugh:
http://www.youtube.com/watch?v=qGJSI48gkFc
Dedicated Justified watchers will remember McDonough as Quarles, the icily unbalanced three-piece-suited villain from Season 3 who was a crazy pure joy to watch. Here is a taste of Quarles:
and of course who can forget the infamous sliced arm season ender:
And as long as we are throwing in video, I give you "Brokeback Justified," featuring that love that dare not speak its name between hero and antihero:
Hat tip to regular commenter Karl (OK, my pretty much only commenter! Please comment!) for that one.
Question: Is it possible that Kendall and Loretta are being groomed for "Harlan County: The Next Generation"?