by Cheryl Collins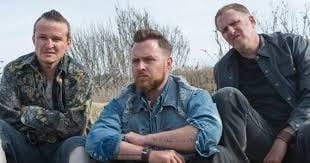 Is it just me? Does it seem that this week's episode, "Whistle Past the Graveyard," and last feel mostly like placeholders that simply move us closer to the end of the season and set up the inevitable showdown between Boyd and the Crowes — as Raylan wanders aimlessly throughout?
Half of the action involves Boyd and his crew plus the Crowes in Mexico trying to smuggle a pile of heroin across the border. Darrell still seems to believe he can outmaneuver Boyd (and we know that is well-nigh impossible). The set-up was great — that whole lot of crazy driving across the Mexican desert with a truck full of dead bodies and lots of heroin — but it never seemed to reach its full dramatic potential. The tension between Boyd's guys and the lesser Crowes stuck in the back of a truck with a pile of corpses and drugs should have been hilarious and awful, but even that felt kind of of ho-hum.
Back in Kentucky, the plot involved Raylan, Alison, and Alison's 12-year-old "brother" Kendall, plus Kendall's ne'er-do-well gambler father and a mean guy looking for him. It wasn't particularly interesting, and even Tim Olyphant, playing Raylan, seemed bored, bored, bored with it all. As Karl notes in the comments (please comment!), William Forsythe, who plays the scary dude looking for Kendall's dad, brought some real tension with him, but he and his fine deep voice were quickly dispatched. (I wondered if this arc was a quickie effort to show that Raylan can actually solve problems without his gun or even brandishing it.)
Meanwhile, in the state pen, Ava falls in a bit deeper with Judith — the mother goddess–worshipping drug distributor who trusts no man. Dale Dickey as Judith brings a big dose of real to these proceedings, and I am thankful for it!
Use of the word "pussy": 2. Both instances in front of a 12-year-old kid. Sheesh.
Note: If you haven't already, it's worth checking out The Americans, the fun and compelling series set in the Reagan years whose executive producer is also Graham Yost. Faithful Justified viewers will recognize Margo Martindale, who played Mags in Season 2; she plays a Soviet handler on The Americans. Enjoy.