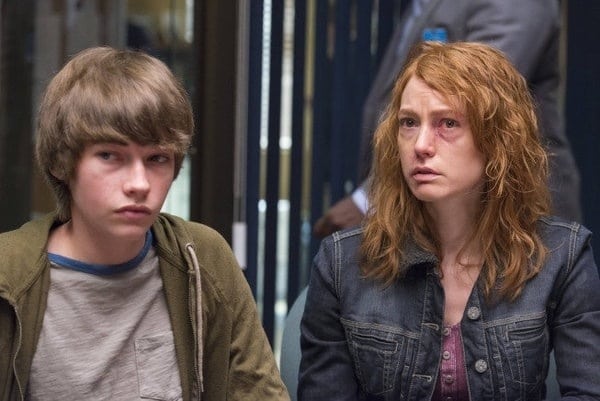 by Cheryl Collins
The season is winding down, and it's only a matter of time before Darryl Crowe meets his maker. The question is who will bring him to that meeting as he has created enemies in every direction, especially within his own family.
The show opens with Ava doing a Lady Macbeth, trying to get all those damned spots out after murdering Judith in the prison chapel. She fears the wrath of Judith's pack of hard asses, but it turns out they've got her back: it seems the goddess-loving Judith was unsurprisingly not all she professed to be. (And one of those chicks really looks like she could be Joakim Noah's sister.)
The show then moves on to a lazy trope: the law enforcement officer gunned down as he is counting the days until his retirement. Art takes a bullet protecting Alison from the Crowes. It's not even worth discussing the ins and outs of this story line, because it's not very interesting, except Raylan does tell Darryl Crowe that Art was "the one man who meant something" to him. This after Darryl has set 12-year-old Randall to take the fall, and Raylan vows to get his revenge against Darryl. There is no suspense here: it's only a matter of time before Darryl goes down. The only question is who does it. (One possible bright spot is that Rachel is now set as interim chief, meaning she will be Raylan's boss. Uh-huh.)
Slightly more interesting is Boyd's confrontation in a hotel room with Wynn Duffy, Ethan Picker, and aging mob moll Catherine Hale (played by Mary Steenburgen). It's all so dignified in that bland setting, as Boyd sets out to explain why he shouldn't die (owing to the fact that he's lost half the heroin load, which is with Darryl Crowe, it seems). There's not much tension here as the director telegraphs throughout how Boyd will outsmart that crew — with an exploding cigarette pack, which Picker is the unfortunate recipient of.
I'm sure I'm not the only one who was sorely disappointed by this episode, partly because so many pieces don't add up (as well as because of the lame-ass dialogue and not great direction). Why does Wendy — whose face is badly bruised after Darryl beat the shit out of her — let her son Randall take the fall, which will send him into the system? Randall's story doesn't even make sense, especially as Alison could refute much if it. Etcetera.
This sorry season is winding down in this, the series' penultimate season. It's hard for me not to suspect that Graham Yost, who developed Justified and has done much of the writing in the past, has shifted his creative energies to the new series The Americans, and perhaps brought along some of the brighter lights behind from behind the scenes with him.
The Americansis hitting its stride and now beginning to rack up critical acclaim in the higher ether — it received a very good write up in the New Yorker this past week — which got me to thinking about the similarities between these two shows. The Americans is about Russian spies who operate undercover in the U.S. for years — their cover is their lives as suburban travel agents and parents — set in the Reagan years. They both feature characters who follow certain orthodoxies and believe themselves, ahem, justified to do what is necessary to protect them. Further, the line between the "right" side and the "other" side is blurry at best. Certainly in The Americans, there is no one to "root" for, as everyone has blood on their hands. And the Jennings in The Americans never feel at home in their roles, just, as we suspect Raylan never does. It would be fun to see a mashup between the two shows, with Raylan lending a hand to the FBI, while Boyd of course works with the quick-footed, multidimensional Jennings.
All the aspects of Justified that were so entertaining — the snappy dialogue, the offbeat and complicated characters — are sorely lacking at this point, and with each passing episode it feels more like just another police procedural. It used to be so much better than that.
Questions:
This episode is called "The Toll." Does anyone have any suggestions as to why that might be?
Raylan spent the show not wearing his trademark hat. Why?
Use of the word "pussy": 1.