by Cheryl Collins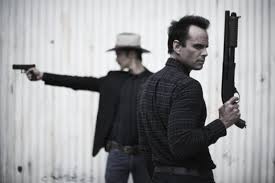 The next-to-last season of Justified is over. Alas, the risky and compelling themes that raised their heads early in the season — submission and domination, master and slave, as refracted through gender and race — disappeared along the way. It felt like someone said, "Whoa! Real world? That not's what Justified does." The Elmore Leonard–inspired noir was washed away and too much of the time we were left with a mostly colorless, lifeless police procedural.
If I were cynical, I would say that the whole season was simply filler for the faceoff in the next and final season we all knew was coming: Boyd versus Raylan.
We already see that the outlines of the final season will echo much of Season 1. Boyd will go back to his crazy-ass bank-robbing ways, this time with nothing to lose, and Raylan will confront further who he really is as he spends more time in Harlan. Ava will be stuck in between, back in the country house where she and Raylan once spent leisurely afternoons before she was Boyd's moll. Perhaps Raylan will move into his daddy Arlo's house to bring it all full circle. Rachel — as Ava calls her, "the pretty black woman" — will be the new Art and try to keep Raylan on a short leash. And Boyd and Raylan will play three-dimensional chess in the hills of Harlan.
There were missed opportunities for so much more this season. For example, when Ava arrived in prison, she was immediately sniffed out by a group of badass black prisoners, and then beaten badly by a group of badass white supremacists. However, as that plot line progressed, the black prisoners faded far, far away — so that they were a very peripheral non-speaking presence in the deep background, as the prison population seemed to turn mostly white.
Another example was the story arc involving the Confederate-loving criminal creep who lived with a black girlfriend in his columned mansion, a woman he chokes nearly to death just for the sake of it. They disappeared after the first few episodes.
Talk of master and slave was not just a black and white thing. Submission and domination crossed gender lines too. It played out with the word "bitch" and "pussy," revolving around questions such as who was weak, who could you boss around, and who did you have to submit to? What made you lose your shit? Boyd, for example, a paragon of self-control, lost it completely when he found out Ava was transferred away. We all have weaknesses, and exploiting others' is what brings real power. That was beginning to be explored this season but was washed away, too.
In fact, nearly everything from the first few episodes just fell away, and it then was all about the Crowe family, who just were not that interesting.
Thus we got plot lines that felt so slapped together and dialogue so crude that it seemed thrown together on the fly, with no sign of the snappiness and sophistication, along with the psychological insight and fun, that had been the show's hallmark. Why was that?
It did seem to me — and this is only an impression as I read none of the show's blogs or any other commentary — that it was decided mid-season that the show needed to be more light-hearted, and that the race and gender issues were just a little too, um, loaded. (The turning point seemed to be Episode 6, when Ava got to the state pen.) So the choice was made to lighten it up. Unfortunately what we got was a whole lot of stupidity. (And I wonder if the tell are the episode titles that seem to have no correlation at all to final show contents; is that a mark of heavily rewritten shows? Perhaps I am reading too much into that.) And perhaps Graham Yost got pulled away by the very smart and sophisticated The Americans
In this episode, the whole Crowe story line was wrapped up when Wendy Crowe shot her brother in the balls. This should have been a tense highlight, but as with almost all standoffs and face-offs this season, you just went "meh." Did we care what happened to either of these characters? Darryl Crowe Junior never was a particularly impressive or threatening bully. The most interesting of the Crowes — unpredictable barking psycho Danny — was killed off a few episodes ago.
Raylan makes sure his final report states that Wendy shot her brother in self-defense. Yet there was no final satisfying conversation between Wendy and Raylan, or with her son Kendall, to wrap it all up, after watching them interact through the season.
Neither was there any follow-up with season love interest Alison, who was disappeared in the last two episodes; her character was never compelling, sexy, nor fun; her and Raylan's chemistry was limp; and her best lines were in the scene where they met.
Boyd, meanwhile, gets to see his "son" Jimmy shot by the Mexican cartel guys who have come for his skin — literally. Jimmy was a killer, and we knew this fate was coming. After that cartel problem finally resolves, Boyd decides to walk away from the heroin trade, seeing how problematic it was, with all the murdering and such. (That plot line — revealed right after Philip Seymour Hoffman's death — always left a bad taste in the mouth.) Winn Duffy and his confederate Catherine Hale have a proposition, though: how about going back to something you are good at, namely, bank robbing? A glint shows in Boyd's his eye.
In the state pen, Ava is stuck. She has spent way too much time in the prison — and so have the viewers — and it was all to get her to this point: friendless and desperate, and marked for death, she decides to make a deal with Raylan and turn on Boyd. Raylan and Ava meet on that bridge where everyone meets to hammer out their working relationship. But it seems from the camera work that someone is watching them from a distance, too.
So Raylan postpones a happy ending in Florida with Winona and his baby daughter so that he can finally take care of Boyd. Will he ever get there?
I hope that Graham Yost is able to tear himself away from The Americans — which I really enjoy — and bring in some of the better writers and directors who perhaps migrated over to that show, and spend some time with Justifiedin its final season to bring some of the sparkle back.
Thanks for any of you who joined me this season. It has been a pleasure. And a special thanks to commenter Karl, a smart viewer who is filled with amazing range of arcana. Thank you for sharing, Karl. Keep on trucking in that Gremlin.
Questions:
Wasn't that broad smile of Tim's — which he flashes at Daryl Crowe — just plain creepy?
Was it just me, or was Ava's decision to turn on Boyd to save her skin reminiscent of the choices faced by Soviet embassy employee Nadia in The Americans?
Use of the word "pussy": 2.