by Keidra Chaney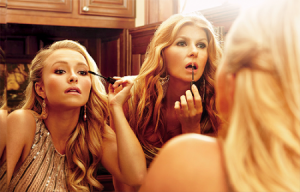 (Some spoilers for both seasons, but not many – go watch the show!)
Of the ABC nighttime shows, Scandal gets all of the buzz but Nashville has proven itself as a solidly and consistently written drama in its own right. Now in its second season, Nashville has a loyal and passionate fan base, and a decent amount of social media buzz each week, even with the recent formidable competition of American Horror Story, which aired at the same time this past winter. Even when Nashville moves into pulpier territory (which it often does) the show's honest and sympathetic characters remain compelling, even when their storylines don't always do them justice.
I've been a fan of Nashville since the first episode, and in its second season it's actually improved upon many of the themes tackled from the show's premiere, the challenges of being a woman – of any age – in a music industry that rarely values women as more than performance props, the struggle of being an artist and songwriter in an industry that values the "personal brand", And of course, all of these issues are complicated family/friend relationships and romantic entanglements. While the clash between veteran country star Rayna James (Connie Britton) and starlet Juliette Barnes (the underrated Hayden Panettiere) propelled the primary storyline of season one, Nashville showrunner (and Oscar winning Thelma and Louise screenwriter) Callie Khouri managed to steer away from the usual catfight tropes that seem to define the soap genre, or frankly any television show that involves two female leads that aren't related. I am looking DIRECTLY at you, Smash.
The show initially positions Rayna is the "hero" of Nashville: a successful, confident performer with a successful politico hubby, two cute and musically talented daughters, and an oh-so soapy former flame, Deacon, who also happens to be her band's guitarist (because that situation ALWAYS works out.) On the other hand, the show initially framed Juliette as the resident bitch: she's arrogant, she's petty, and seems to see all other women as a potential threat. Predictably, she has no girlfriends.
From the first episode, Juliette approaches Rayna as an antagonist, and from the outset it appeared to be the usual story of a barely-out-of-her teens ingénue aiming to usurp the crown from her middle–aged rival. As the series progresses, however, we see much more of the motivations of both women. Juliette is kind of a jerk and pop diva, but she's also a songwriter and performer with genuine talent, a young woman with truly troubled home-life in the form of her addict mother, and absolutely terrible taste in men. On the other hand, Rayna is a bit of a spoiled brat at times, especially considering she's been emotionally cheating on her husband in plain sight for well over a decade.
Throughout the show, the women tour together, they perform together, they attempt to write music together, but they are never friends. They're not enemies either. Nor are they "frenemies," technically. They are, and this is unusual for most shows, women with a demonstrated mutual respect for each other, even if they don't particularly like each other personally. All of it is justified.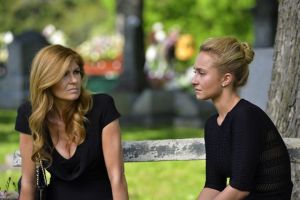 In the first episode, it's clear why Rayna resents Juliette. In her mind, she represents "true" country and Juliette is viewed as a shallow pop-tart. But not too long after, you start to see a little bit of why Juliette resents Rayna so much as well. It's not just shallow cattiness, Juliette sees Rayna as a child of privilege, not someone who fought her way into the industry. And, to extent, they are both right. As the two women are forced to collaborate, you see a grudging acceptance of each other's talents, and as their lives intertwine (most intimately when Juliette has a brief affair with Deacon) you see the women grow to respect each other personally as well, but at an arm's length.
It's all done in a way that never sinks to the typical frenemy interactions of TV shows (think "Dynasty" if you're Gen-X, or "Gossip Girl" if you're Gen-Y) They don't go out of their way to insult each other when they're in the same room. They don't rush to claw at each other and fall into a nearby pool at cocktail parties. They are simply not friends. Even though they've both been involved with the same man, I'm pretty sure their conversation about that fact took up less than two minutes of an episode, while another show would have quickly turned that plot point into additional fuel for their rivalry to last an entire season.
On the other hand, the friendship drama between second-tier characters Scarlett and Zoey seems to tread predictable ground. A major character that also polarizes fans, Scarlett O'Connor is a sweet-natured singer-songwriter who also happens to be Deacon's niece (told you it was complicated). Scarlett worked her way up from Nashville's open-mic circuit and scored a recording contract with Rayna James boutique record label. While Rayna and Juliette are the primary focus of Nashville, Scarlett's storyline is very much about the slow climb of the industry noob.
Unfortunately, a lot of fans hate Scarlett. Why? She's not curt and nasty, like Juliette, or a strong-willed diva like Rayna. She's actually – which is highly unusual for television – quite introverted. Performing in front of a large audience is not her strong suit, and she'd much rather be in an intimate environment creating music than working a crowd. This often comes off with Scarlett looking like a bit of a wishy-washy doofus a lot of the time, unfortunately, as she runs away from the types of star-making opportunities that most people in the industry would presumably kill for. Scarlett's not-ready-for-the-big-time personality type comes into play a lot on Nashville, in addition to a dizzying game of romantic musical chairs that includes her songwriting partner/former fiance Gunnar, her childhood friend, Zoey, and her on/off boyfriend Avery. And Juliette. (Look, it's a soap, okay!?)
Scarlett's friendship with Zoey was rather shoehorned into the beginning season two of Nashville, after a season of Scarlett primarily interacting with Gunnar and Avery. While on one level, it was nice that the show didn't automatically force a friendship between the two 20-something main female characters on the show (Juliette and Scarlett), Zoey still seemed to have come out of nowhere. The love triangle between Zoey, Scarlett and Gunnar was the point where Nashville's soapiness went into overdrive because YOU DON'T DATE YOUR BEST FRIEND'S FORMER FIANCE TWO MONTHS AFTER THEY BREAK UP. Period. There's "breaking Girl Code" and there's just stupid behavior, and Zoey seems to exist in the latter category, and this storyline seemed to exist just to give Zoey something to do. Luckily, it seems to be ramping down in favor of the far more intriguing slow-burn romance between Avery and Juliette.
Despite a few missteps, Nashville has been consistent in showing a refreshingly wide spectrum of relationships between women. Women's relationships on television are often slotted into one of two categories: BFF's or bitter rivals. To be fair, there are recent examples of female friendships on TV that aren't superficial or created out of plot necessity (as in, they are related) or centered in some way around a male character: Leslie and Ann on Parks and Recreation, and Meredith and Cristina on Grey's Anatomy (though both of those platonic OTP's either are or will be split up by the end of this TV season.) However, when women exist in the same space together on TV on equal terms there's often not much room for anything other than a giggly hair-braiding session or a catfight – usually over a boy. Nashville is refreshing in that illustrates women's relationships can be complicated. Not passive-aggressive Facebook "complicated," but in a way that rings true to the sometimes messy lives of real people.