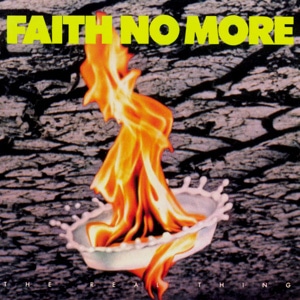 Faith No More's breakthrough album The Real Thing was released 25 years ago today. This is probably not significant if the only song you know from Faith No More is "Epic" in which case, move along, this post is not for you.
If you talk to a lot of FNM or Mike Patton fans you'll probably hear that it's probably not their favorite album from either the band or him. No matter, because it's significant in its own right, not just because it provided Faith No More with their only big mainstream hit in the US. For metalheads of a certain age, like me, this album was an introduction to a lot of shit I didn't think you could put together, like keyboards and metal, or rap and metal, or non-metal looking dudes doing metal. I know many music critics blame FNM for creating NuMetal but I'd really like for those dudes to step off, because it's not fair to blame a band for their knockoffs. No one blames Creed on Pearl Jam, right. RIGHT!?
The Real Thing was the band's third album but the first with Mike Patton as vocalist, while this particular album is notable for Patton's really really really nasal vocal style which he thankfully abandoned in later albums, but you can also hear the glimpses of brilliance that would really develop in later albums like Angel Dust and King For A Day … Fool for a Lifetime; like the heavy and ridiculous Surprise You're Dead, or the criminally underrated Falling To Pieces which is very impressive lyrically, coming from a 19 year old. While not the FNM album I come back to most as an adult, at the time, I WORE THIS TAPE OUT. Literally, I snapped two cassette tapes in two. Additionally, The Real Thing and kicked off a DECADES LONG Mike Patton stan-dom that has been a defining characteristic of my life and provided me with years of fangirl joy. Hence this post. Happy anniversary, The Real Thing and thank you Faith No More, for making me the fangirl I am today.
Special Bonus for hardcore FNM fans!
Check out this Real Thing-era song that eventually kind of became the song The Perfect Crime!