by Vivian Obarski
I remarked on Twitter once that the fandom war between BBC's Sherlock and CBS' Elementary is starting to make the Biggie/Tupac feud look like a playground spat. I wish I was joking.
What I've found most fascinating (ie, infuriating) is that most of the discussion focuses on Lucy Liu, who plays Joan Watson on Elementary.
Now there's a difference between nattering amongst fans and fandom wars, but it's interesting watching how some of the people have reacted to this news. During a chat, Louise Brealey (who plays Molly Hooper on Sherlock), thought the casting of Lucy Liu was "ridiculous", which resulted in backpedaling from the actress: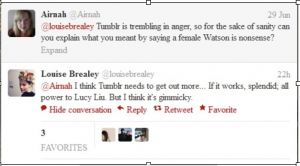 Most recently, Victoria Coren of The Guardian opened her article saying "Don't get me wrong, I'm a feminist" (which should've been a red flag right there) said the following:
Meanwhile, Lucy Liu is worried that people will see only the gender change to her character and miss another excellent improvement to the rubbish old original story, telling the Times: "It was a very big deal for me to play an Asian-American in Charlie's Angels; Watson's ethnicity is also a big deal", as if someone had bet her £100 that she couldn't cause at least three Conan Doyle fans to suffer a pulmonary embolism.

Personally, I'd like to press Liu's face into a bowl of cold pea soup for that statement. It's not just her failure to distinguish between creating a new character and mangling a beloved old one (Tread softly! You tread on my dreams!), but the triumphant tone over such an appalling and offensive racial change. Let me be clear: I rather like the idea of an Asian Watson, but American? God save us all.
Here's the thing — these women come from a place of privilege that I don't think they realize. As a Chinese-American woman working in Hollywood (and judging by the casting, the ONLY Chinese-American woman working in Hollywood — seriously, what's up with that?), neither Coren nor Brealey seem to get how difficult it is to find roles in Hollywood, as Liu told NPR:
I don't really have an option if I want to be an artist and in this business, in order for me to survive, this is the direction that I have to go in.
Actresses bemoan the fact that as they age it gets more and more difficult to find good roles. Now imagine that for minority actresses. To put it in video game terms, it's probably on the hard level (the Godmode being the African-American gay transgender disabled woman).
Couching the argument in something like "If you were going to be revolutionary, you'd cast her as Holmes," is irritating, because it's an idealist notion that most realists know probably won't happen. I would've loved to have Liu as Holmes also (I've always said that along with the fact that I want a reimagined Charlie Chan), but you grab the roles you can get. If they did as Coren suggests, then Watson of Elementary would have ended up being a white man and Liu wouldn't have a job.
There's not enough roles for minority actresses out there, so if there's an opportunity like this, you jump on it. To say that you should reject a role because of artistic visions or because you're not the right "look" is incredibly privileged and I don't think that Coren gets that. Acting is still a business after all — pretending that all actors have the luxury to reject gigs based on artistic vision indicates a background that many people do not have.
People can also say it's a gimmick and a twist to get audience members, but you know what? Modernizing Sherlock Holmes and bringing it to the 21st century was also a gimmick. Doyle's writing of a genius detective was also a gimmick. There's always a hook to get the audience and to pretend otherwise is disingenuous.
I'm reminded of the reaction to Idris Elba being cast as Heimdall in Thor and Thor 2 and how fans of the comic threatened to boycott the movie with his casting. It's just saddening. We pretend we live in a post-racial society, but whenever a casting occurs that challenges our notions (be it based on gender, race or other categories), it's funny seeing how fast the arguments against that casting occur or that the role is merely pandering.
Minority actors can't catch a break in big roles apparently — everyone's got to turn their jobs into statements on politics, gender and race and whether or not they're doing the world a favor with their choices.
It'd be nice to have people cast for shows without thought to race or gender, but apparently that still doesn't exist. In the meantime, I'm going to continue to ignore the fandom war, watch Elementary, Sherlock and all the other Holmes adaptations, knowing ultimately Doyle didn't give a toss.