by Sarah Best – Wilson

Displaced Persons, a graphic novel written by Eisner-nominated author Derek McCulloch and illustrated by Anthony Peruzzo, has a plot that might appeal to Whovians who also love noir movies like The Big Sleep.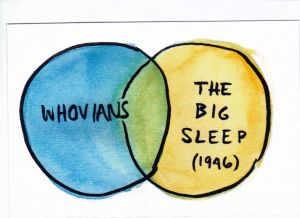 In 1879, an orphan is taken to a convent. In 1939, a private detective is put on the case of locating a missing heiress. In 1969, twin brothers, one a cop and one a father, both find themselves in some trouble. And in 1999, a woman discovers that something is terribly, terribly wrong with her husband. These disparate stories are tied together by common threads: a house in San Francisco, a heart-shaped locket, and a string of cold cases left in the wake of mysterious disappearances.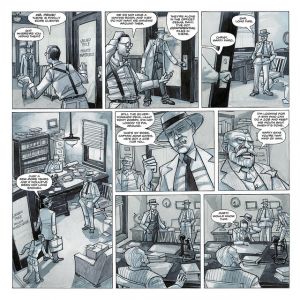 The illustrations are muscular and angular like a Max Beckmann painting (from another lost time and place). They're also richly detailed. I found myself lingering over each pane, intuiting relationships and absorbing information about each character, time and place from a series of domestic details. A cribbage board two grandparents are crouching over. A seductive curl of smoke painted in a white wash over noir lighting. A VW van at a drive in. A old chestnut tree. A man on a couch sleeping under a blanket covered in horses, next to a VHS player.
To communicate the way that characters move in time, Peruzzo adopts a monochromatic color scheme that is unique to each era. 1879 is illustrated in yellows, 1939 in moody blues, 1969 is red and so on. When characters travel through time they appear in yellow on blue, blue on red, appearing in the color of the time that they originated in.
I wish that McCulloch's story held up to Peruzzo's illustrations. There was a lack of attention to detail on the part of the author of making the dialogue from each time period pick up the flavor of each era. This is particularly a shame in the detective story set in the 30s, which is crying out for a more authentic hard-boiled Raymond Chandler treatment. In many cases, the dialogue falls flat, not adequately doing the work it needs to do to establish each character as having a distinctive voice.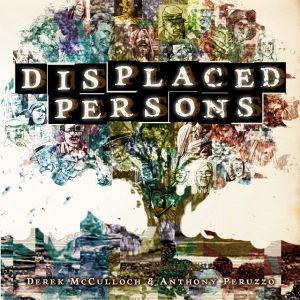 Because I loved the illustrations so much, I could live with this, but I what I can't abide by is the way that the author portrays women and gay men. The women in the novel are all one-dimensional set pieces–grandmothers, mothers, blonde daughters, victims of abuse or other forms of violence, maligned as sluts and whores. Gay men are not equally presented in an equally wooden way, but the author uses denegrating terms for gay men and lesbian women–sometimes having the words come straight out of gay characters mouths–and what little character detail it gives are stereotypes.
Learned Fangirls, unless you feel particularly compelled to check out the illustrations I'd take a pass on this one.
Displaced Persons is published by Image Comics and is available in paperback for $17.99.