by Raizel Liebler
This discussion of Jo Kwon (from 2AM) is part of a series of posts about gender and sexuality in K-pop.
Jo Kwon is the leader of the ballad-heav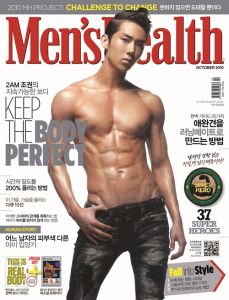 y 2AM, and like all balladeer groups, like New Kids on the Block, 'N Sync, and now One Direction, while the group can have male fans, the ideal audience is tween and teen girls. And to have all members of the group be the object of affection of the fans — to play marry/f*uck/kill — but without the "kill". But what happens when one of the members of the group is gay?
Both NKOTB and 'N Sync had gay members, who were closeted during the height of their popularity, though both Jonathan Knight and Lance Bass are now out. But would it be possible for a boy band to have an openly gay member while popular? Highly doubtful — even in the age of Glee — and jokes at the Tonys about how Broadway is "for the gays."
So how does this work in Kpop — where there are so many more groups? As far as I know, there aren't any openly gay Kpop stars. However, many think that Jo Kwon is gay — mostly based on what is seen as a "flamboyant" dance style.
From a Western perspective, there is only one way to read the dance performances and image of Jo Kwon and his sexuality — as a very specific type of young gay man — a twink. He vogues and … twerks (?) alongside a bulldozer. His performance style was first popularized when he, along with his groupmates in 2AM (and 2PM) performed as Dirty Eyed Boys, a parody of the Brown Eyed Girls' Abracadabra video (and dance). He's not the one who eats the banana provocatively, a la Steven Colbert, but he is definitely a standout.
He also participated in a reality television show, We Got Married, where he was "married" to Ga-in (from Brown Eyed Girls), leading to them releasing a romantic song together "우리 사랑하게 됐어요" (We Fell in Love) — and additional performances of romantic songs of others.
Almost any video of Jo Kwon on YouTube has comments about his possible sexuality — "he's so gay", "so what if he's gay?", "focus on his talent, not on him being gay" and some super negative comments. Some have called his solo debut song, "I'm Da One" his official coming out song.
But he hasn't made any statement regarding his sexuality, so he may be gay — but any of his groupmates (or anyone else in kpop) could also be gay … or bi … or queer. It would make sense for the Korean LGBTQ community to claim him, but I look forward to any member of any Kpop group who are under the constant magnifying glass of their fans being willing to take the leap to come out.
Regardless of his sexuality, his flamboyant persona (called "dorky" on Wikipedia, no joke) is accepted — and doesn't limit his popularity — or his role as the leader of his group.