by Nicole Keating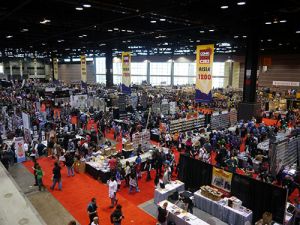 C2E2 is a comic convention that is actually focused on comics. While ReedPop's marketing pushes the entertainment guests that get butts in the door, the showstoppers are always the comic creators. The panels reflect this, too: how to become a comic writer/artist, how to have a successful Kickstarter, how to create professional-level cosply, et cetera. The weekend is so focused on breaking into the industry that a lot of the major comic producers don't actually make any major announcements. Instead, C2E2 is about networking, learning, and having fun. This year's convention allowed me to do all three while continuing to explore and promote female-driven content.
The best part of this exploration is the new friends and contacts you make. I was there with a group promoting our female-centric science fiction webseries, and everyone we chatted with was extremely warm and welcoming and genuinely interested in what we're doing! I met a ton of cosplayers, flirted with a TARDIS, and even convinced a stranger to buy all of Rat Queens. This friendship-is-magic ethos permeates the talent, too. I supported the up-and-coming Outfit Comics in their first year with a convention booth. (Outift's Warwick Johnson's The Empty Grave Part 1 will be my next review.) I introduced myself to the creator of Rayla (and one of my mother's many enviably-cool colleagues), Ytasha Womack. Most importantly, I got to personally thank Gail Simone for tweeting out the link to my Kickstarter. I barely made it through without fangirl screaming.
Friends, strangers, and idols come together at conventions! C2E2 even sells alcohol provided by chicago's beloved Revolution Brewing for even better shmoozing! I chatted with a group of people from rural Michigan who were blown away by the scope of Chicago's convention. Truly, the size of the convention has grown steadily since its inception in 2010. While the internet has yet to post the official report of this year's numbers, 2013 saw 53,000, and 2014 was bigger. With such staggering attendance growth, the entertainment guests are mobbed! The line for Lost Girl cast autographs was hours long. Compare that with my under-45-minute wait to see Natalie Dormer last year. But now even second-string Game of Thrones actors bring hoardes.
Unfortunately, this fervor does not extend to the comic guests. Consider beloved writer Gail Simone. Her panel was less than half full. Fortunately, it was half full of devoted fans who were delighted to hear her responses to any and all questions. She spoke about how active she is online: the Internet is her home. The Internet offers almost-universal access and an international audience. A woman who starts out on the Internet gains a loyal fan base, as opposed to trying to break into the still-gender-biased world of mainstream comics publishing. So when Simone arrived in New York to discuss her first non-Internet job, she was more worried about inexperience and travel time than about being a lady. You know, actual career concerns! Despite her personal mission to diversify a universe focused on telling the stories of young, white, beautiful people, Simone insists on writing for everyone. Her work is not just for people to read about themselves, but for everyone to read about everyone. For deepening knowledge and understanding. For inspiring compassion. To quote Gail herself,
"People say, 'Write what you know.' I think people need to know more."